WJMR/WLZR antennas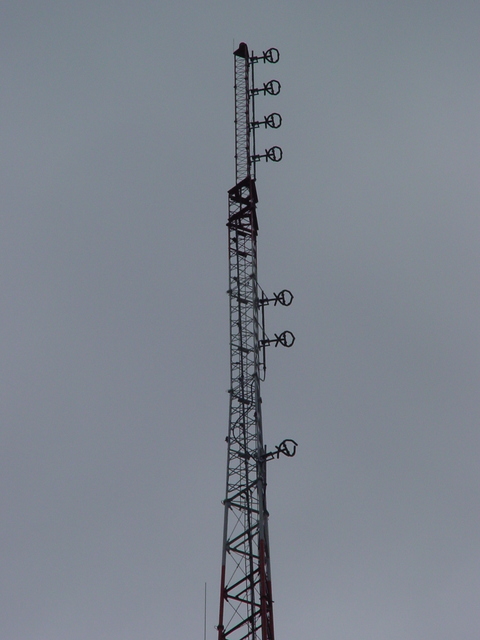 Moving in closer to the WJYI (1340 Milwaukee) tower, at 5454 W. McKinley, we can see three sets of FM bays on top. At the very top is rock "Lazer" WLZR (102.9B Milwaukee), 1340's historic sister station. I think the two-bay thing below is a WLZR backup, with the single-bay belonging to urban AC WJMR-FM (98.3A Menomonee Falls).
According to Dick Golembiewski, this tower was originally home to WEMP back when it was on 1340. It was also home to Bartell's WOKY-TV, channel 19, an ABC affiliate. In 1954-55, a rather complicated dance took place, in which WOKY-TV was sold to CBS, but CBS swapped WOKY-TV's inadequate studio facilities (it had been the second UHF on the air in Milwaukee) with WCAN-TV (channel 25, CBS's former affiliate), which had just built brand-new facilities. Rather than continuing to operate the station as an independent, owner Lou Poller elected to take WCAN-TV dark; Poller would later sue CBS and Bartell. Also in 1955, WCAN's radio facility (1250 Milwaukee) was sold to the owners of WEMP, and the old WEMP on 1340 became top-40 WRIT. WOKY-TV would become WXIX under CBS ownership, who also had it reallocated to channel 18; when WITI (channel 6) came on the air, CBS moved its affiliation there and sold channel 18. As an independent, WXIX would become WUHF and would move to the former WCAN-TV tower atop the Sheraton-Schroeder Hotel downtown.
See also
---
Copyright 2004, Garrett Wollman. All rights reserved. Photograph taken 2004-07-05.