KMRI/KCPW towers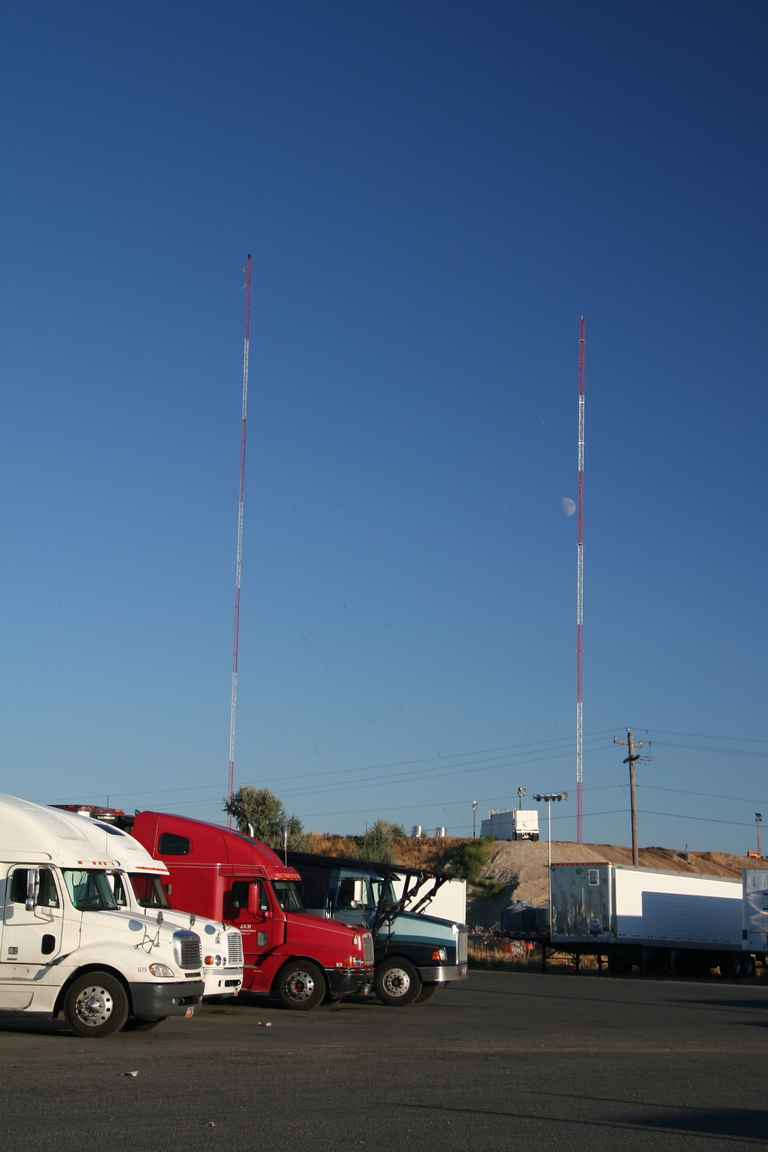 Still in the general vicinity of SLC airport, we end our evening at the two-tower array of KMRI (1550 West Valley City) and KCPW (1010 Tooele), off the Utah 201 frontage road at 6211 W 2100 S in West Valley City.
KCPW is licensed to operate from a single tower at another site with 50 kW-D, 3.1 kW-C, 13 W-N, ND-D. It has a construction permit for 50 kW-D, 42 kW-C, 194 W-N, from this two-tower directional array (which is the current operating facility, for which a license to cover was filed in 2005 but has yet to be granted). There are a number of other applications outstanding. KCPW is presently a simulcast of NPR outlet KCPW-FM (88.3A Salt Lake City), which is operated by Community Wireless of Park City (about which more in just a little bit); the 50-kW day signal serves a much larger area than the Salt Lake FM. (Community Wireless filed in June, 2008, to sell KCPW-FM to Wasatch Public Media, which was already operating the station under an LMA, for $2.4 million. The sale of KCPW(AM) has been announced but no FCC application had been filed as of this July, 2008.)
KMRI uses only the west tower for its 10 kW-D, 340 W-N, ND-U operation, with "regional Mexican" programming and Piolín in the morning.
(Incidentally, the LMA contract for KCPW-FM contains the restriction that "[Wasatch], in its broadcasting shall not discuss Educational Media Foundation ('EMF'), 'Community Wireless of Park City' or Christian broadcasters without the written consent of [Community Wireless]." It also provides that Wasatch "agrees not to disparage Blair Feulner in any [way]".)
---
Copyright 2007-2008, Garrett Wollman. All rights reserved. Photograph taken 2007-08-23.