Mount Royal Candelabra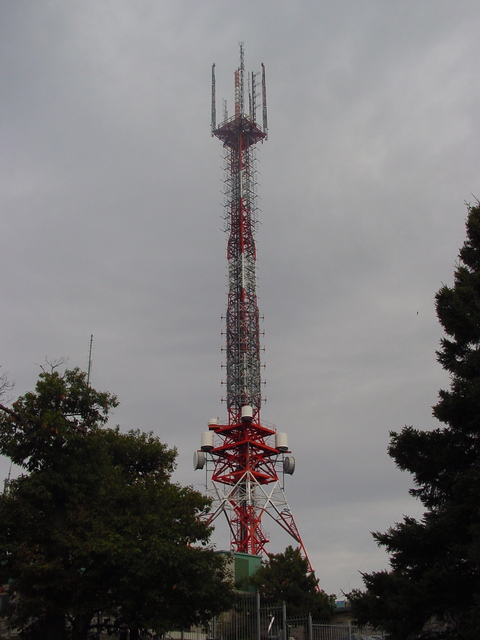 With the exception of CKOI and a couple of smaller community FM statations, all Montreal FMs and most of the TVs transmit from this one tower atop Mount Royal. The quality of the information we are able to find as to the actual operating parameters of Canadian stations leaves something to be desired, but be that as it may, here's what we think is happening on this tower:
The lower FM panel master serves mostly non-commercial stations: CBC Radio 1 CBME-FM (88.5), French-language alternative CISM-FM (89.3), McGill University campus/community outlet CKUT-FM (90.3), religious CIRA-FM (91.3), CBC Radio 2 CBM-FM (93.5), Radio-Canada première chaîne CBF-FM (95.1), and chaîne culturelle CBFX-FM (100.7).
The upper FM pannel serves the older commercial stations: soft AC CFQR (92.5), ``Enérgie'' CHR CKMF (94.3), hot AC CJFM (95.9), classic rock CHOM (97.9), AC ``Rythme'' CFGL (105.7 Laval), and French-language hot AC CITE (107.3).
The FM bays above the platform serve two newer commercial stations: CKOO (98.5 Longueuil) and newly-licensed classical CJPX (99.5).
Also above the platform are the TV stations: CBC outlets CBFT (channel 2, Canada's first television station) in French and CBMT (6) in English, TVA flagship CFTM (10) and CTV's CFCF (12) diplexed, provincially-owned public broadcaster Télé-Québec's flagship CIVM (17), TQS flagship CFJP (35), and Global affiliate CKMI-TV-1 (channel 46, nominally relaying Quebec City's channel 20).
In addition to the stations on the main antenna, there is another antenna hidden behind the trees which has ethnic CJNT (channel 62), which is now affiliated with Global's second network, ``CH''.
---
Copyright 2002, Garrett A. Wollman. All rights reserved. Photograph taken 2002-09-29.