CINF/CINW transmitter building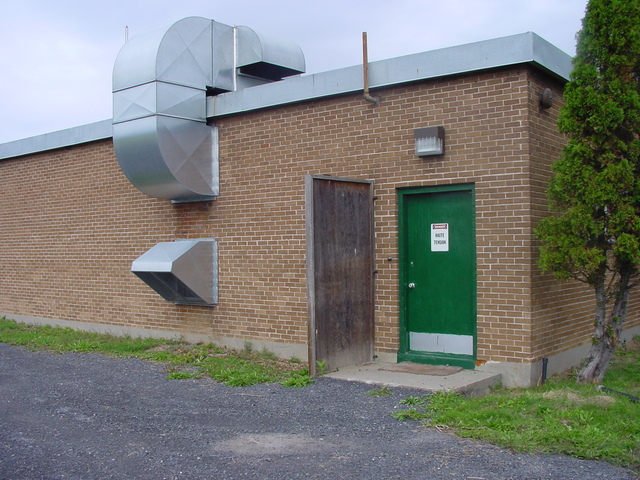 When last we visited the Kahnawake reservation, this building was home to a single AM station: CIQC, formerly CFCF, Canada's oldest radio station. At the time, we could barely see the building; since then, the stretch of Hwy. 132 which passes the site was widened, allowing us to get a clear view of the site for the first time, and indeed to drive right up to it.
[Those with a memory for Canadian history will recall that it was the Mohawks at Kahnawake who blockaded the Mercier Bridge, which connects Montreal with its southwestern suburbs, in protest over the construction of a municipal golf course at Oka in 1990. The bridge, the highway, and the transmitter site are all located on Mohawk territory, and if I remember correctly, there is a large bingo hall right across the highway from this site. Not far north from here is a community center, where the transmitter of CKRK (103.7 Kahnawake) is located.]
In any event, a few years ago CIQC passed into the memory books, and first CINW (940) followed by CINF (690) were installed here, as the new all-news outlets did not choose to acquire the old CBC Brossard transmitter site (from which these stations once emanated with far better signals as CBM and CBF, respectively). Both stations run an all-news format: 690 in French and 940 in English, but taking advantage of listeners' old habits and presets hasn't helped much, as both stations remained mired in the ratings basement.
Although I did take pictures of the four towers, they did not turn out particularly well, and I have chosen not to present them here.
---
Copyright 2002, Garrett A. Wollman. All rights reserved. Photograph taken 2002-09-29.