WJOY tower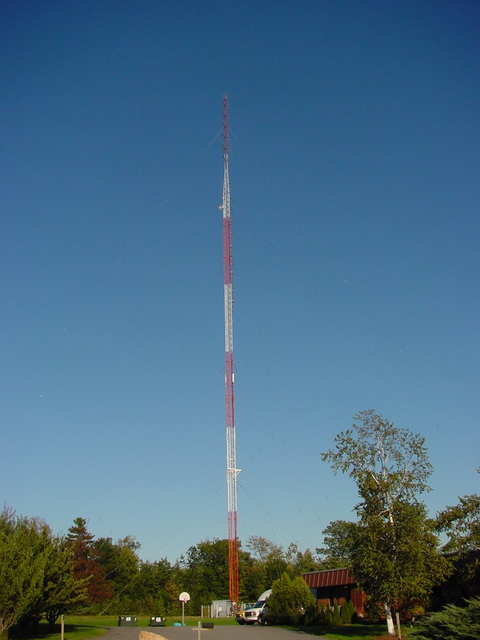 From Colchester I passed on easy-to-find but uninteresting WWPV, and headed into Burlington by way of Winooski. Unfortunately, I did not manage to find WKDR's (1390) 1 Main St. studios, nor did I manage to get a shot of University of Vermont student station WRUV (90.1), for the simple reason that it is no longer there. (It's still on the air, so far as I know, but the tower is most definitely gone from where I remember it—another task for a return trip.)
So, I continued on.
When my family first moved to Vermont in 1978, the big top-40 radio voices were WQCR (98.9 Burlington) and WGFB (99.9 Plattsburgh, N.Y.) -- both all automated, all the time. B-100 stayed automated (or later bird-fed) through to the bitter end—it's now modern rocker WBTZ and commonly owned with "the Wizard" WIZN (106.7 Vergennes). By 1983, however, Q-99 had moved to live jocks in most dayparts, and was about to make a big splash with the morning team of Louie Manno and Jim Condon. I quickly became fanatically devoted to Q-99—at least once I got an FM radio—even after all my classmates started telling me how un-cool Q-99 was and how I should really be listening to the new "95 Triple X" instead. Eventually, as always happens eventually to radio stations, owners Hall Communications made one to many changes and the station began to (as my classmates would have said) suck. Manno and Condon eventually left and got into ownership at WKDR (1070 Plattsburgh, later moving to the 1390 Burlington facility, ex-WDOT).
The end finally came for Q-99, and thankfully I was not in town -- or even in the country—to hear it being blown up. When I got back from Finland in 1989, Q-99 had turned into country WOKO, and quickly demolished the weak-signaled format competition at WLFE (102.3 St. Albans) to become the number-one station in town. Most of my listening, before I left for Finland, had already moved over to WXXX (95.3 South Burlington) and rimshot newcomer WXTY (103.9 Ticonderoga, N.Y.), but I still have fond memories of the glory days of Q-99, and a few old, fragmentary airchecks to prove it.
Oh, this tower? It was built some time after I left town, when WOKO upgraded to a full class-C signal. (The tower I remember was shorter and much narrower in cross-section.) It's located right next to the studios on Joy Drive in South Burlington, and also carries a wire alongside for once-and-forever-sleepy sister station WJOY (1230), which runs satellite standards.
---
Copyright 2002, Garrett A. Wollman. All rights reserved. Photograph taken 2002-09-28.