WEEI-FM/WSKO-FM tower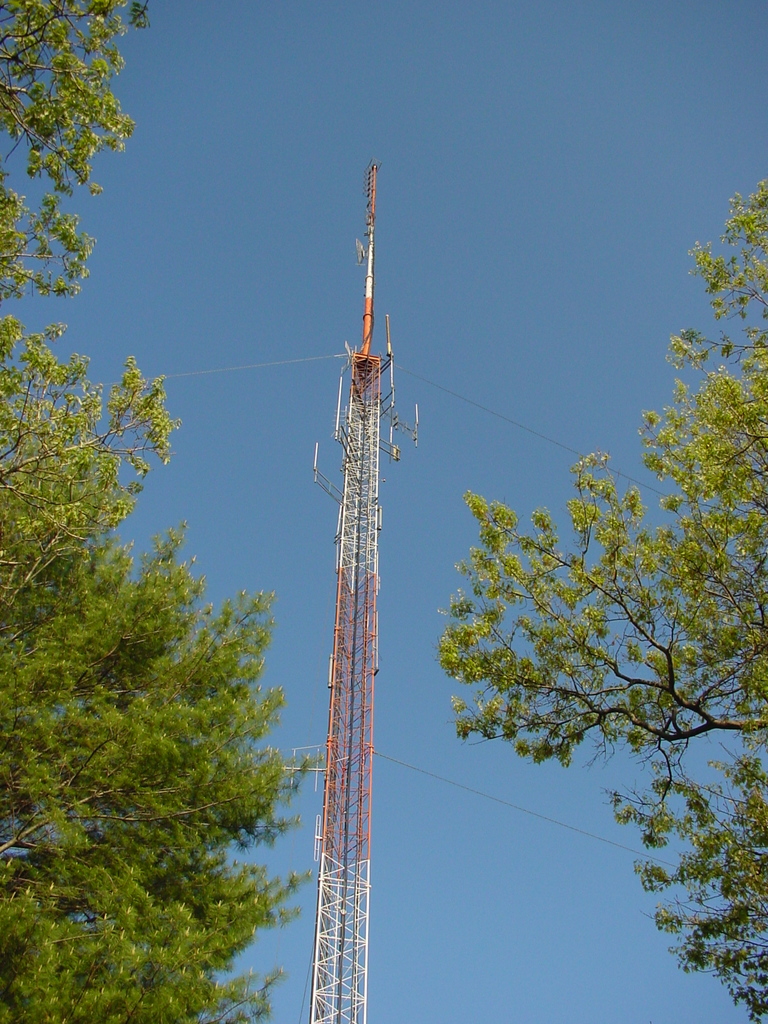 This is American Tower's Exeter, R.I., tower. WSKO-FM (99.7 Wakefield-Peace Dale) signed on from here as an 80-90 drop-in with sequential callsign WUAE; it played modern rock for several years as "Edge" WDGE (parallel WDGF 100.3 Middletown) and "99-7X" WXEX, then spent a year as classic hits "Hawk" WHCK (again parallel 100.3 Middletown) and a while as 80's "Z100" WZRA (still parallel 100.3 Middletown), before adopting the current sports-talk format as "the Score" WSKO-FM (parallel WSKO, 790 Providence).
WEEI-FM (103.7 Westerly) has a slightly less-checkered history. It began its life as the FM partner to Westerly's AM 1230, WERI, adopting the WWRX callsign in 1980. As a straight-ahead album rocker in the '80s and most of the '90s, WWRX achieved a modest, but measurable, following in the New London market, but station ownership was more interested in making inroads in Providence, so in 1989 the station moved from its old facility on Escoheag Hill in West Greenwich to this tower which, although slightly south of the old tower, is about ten miles farther east and thus better-suited to serving Providence. WWRX's studios would also move, to the 75 Oxford St., Providence building shown previously. The station was eventually sold to Boston Phoenix owner Stephen Mindich, who used it to extend the reach of his WFNX (101.7 Lynn), and finally, in 2004, it ended up in the hands of Entercom as a simulcast of Boston sports-talker WEEI (850).
See also
---
Copyright 2004, Garrett Wollman. All rights reserved. Photograph taken 2004-05-15.