Madison Community Tower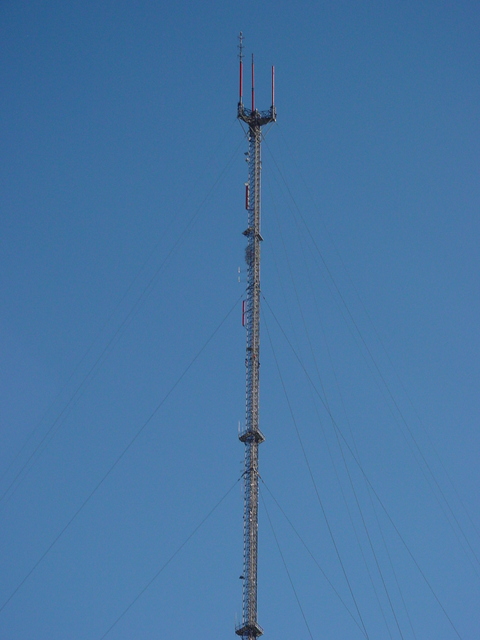 Now looking up at the Madison Community Tower, we can identify some of the stuff on here. On the candelabra, from left to right, we have:
WMSN-TV (47 Madison) with DT 11 on top
WISC-TV (3 Madison) with DT 50 below
WHA-TV (21 Madison) with DT 20 diplexed
WKOW-TV (27 Madison, DT 26) is up there somewhere, too, but I can't figure out precisely where. Is it combined with WHA?
Moving down the tower, we find:
WHA-TV's backup DTV antenna at 365 m above ground
WERN (88.7 Madison) at 343 m
WIBA-FM (101.5 Madison) at 266 m
WERN's backup antenna and W215AQ (90.9 Madison, // WHHI) at 125 m, not visible
The total height-above-ground is 433.7 m (1423 ft).
---
Copyright 2004, Garrett Wollman. All rights reserved. Photograph taken 2004-10-10.