Columbia Square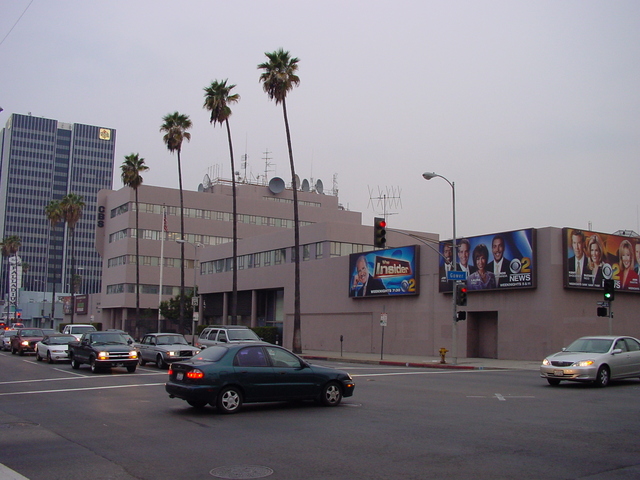 About half a mile west on Sunset, at the corner of Gower St., is number 6121, known to broadcast historians as Columbia Square. This building was originally constructed before World War II to house CBS's west-coast radio network operations, including KNX (1070 Los Angeles).
Digression: A little Los Angeles TV history… The first TV station on the air in Los Angeles was Cadillac dealer Don Lee's W6XAO (channel 2), which (when it finally received a commercially license) became KTSL, named after Don Lee's son Thomas S. Lee. It was soon followed by what would become KTLA (channel 5) and NBC's KNBH (channel 4). Also arriving on the scene in the 1940s were KTTV (owned 51% by the Los Angeles Times and 49% by CBS, with which it was affiliated), KLAC-TV (channel 13), and Packard dealer Earle C. Anthony's KFI-TV (channel 9).
KTSL's studios had started out in a small facility adjoining Lee's Cadillac dealership at 7th and Bixel in downtown Los Angeles, shared with sister station KHJ. In 1939, Earle Anthony bought out Hearst's KEHE (770 Los Angeles, affiliated with the Evening Herald Express newspaper) and combined its operations with his KECA (1430), under KECA's calls but on KEHE's frequency (which became 780 after NARBA took effect in 1941). Anthony also owned KFI (640 Los Angeles), and both stations' studios had been located at his 10th and Hope Packard dealership. KECA and KFI moved into KEHE's studios at 141 N. Vermont. (That classic 1936 Art Deco building was demolished by the Los Angeles Unified Schoold District in 2002.) Meanwhile, by the late 1940s, the Don Lee broadcasting properties (KHJ, KTSL, and the Mutual Don Lee Network) had moved to a new studio facility at 1313 N. Vine.
As mentioned, CBS was originally affiliated with the Los Angeles Times's KTTV (channel 11). CBS soon decided that it wanted to own its own television station, and in 1951 CBS sold its interest in KTTV and purchased KTSL from the estate of Thomas S. Lee. CBS had no interest in Lee's radio properties nor in the Don Lee brand name, so those were sold by the Lee estate to General Tire and Rubber's General Teleradio division (which would become RKO General after acquiring the RKO Pictures film studio). CBS maintained a lease on the KTSL studios at 1313 N. Vine, but changed the callsign to KNXT reflecting its common ownership with KNX.
When KFI-TV (channel 9) started up, its studios were naturally located at 141 N. Vermont. It quickly proved to be a money-loser for Anthony, and union issues at the station didn't help. General Tire was looking for a television station to complement its just-acquired KHJ radio, and so later in 1951, KFI-TV became KHJ-TV and moved into the KHJ studios at 1313 N. Vine. KNXT did not move out—to Columbia Square—until 1960. Digression ends.
In 2004, after CBS was acquired by Viacom, KCBS-FM (93.1B Los Angeles) moved out of this facility to the Venice Boulevard studios of KROQ (106.7B Pasadena)/KRTH (101.1B Los Angeles). K-Earth (the erstwhile KHJ-FM) then moved back to the old KHJ-AM/FM/TV studios on Melrose, and KCAL-TV (9 Los Angeles, formerly KHJ-TV) moved from Melrose into Columbia Square.
In 2006, KNX moved out of Columbia Square into new studio facilities on Wilshire which I described in April, 2006. KCBS-TV and KCAL-TV moved to the CBS Studio City Broadcast Center in 2007.
---
Copyright 2004, Garrett Wollman. All rights reserved. Photograph taken 2004-12-26.