WATD-FM studios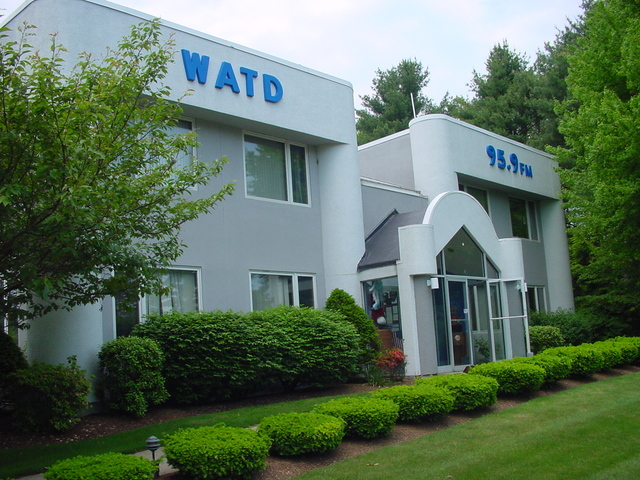 From one of Greater Boston's oldest radio stations to one of its, well, not quite so old: We headed down the South Shore from Hull to Marshfield, home of Ed Perry's nifty community-oriented FM, WATD-FM (95.9A Marshfield). Ed worked for many years as an engineering consultant, doing FM allocations work for many of the newer stations in the area. Many of those allocations filings had the effect of preventing those channels from being used closer to Boston, with the result that WATD faces very little competition in its core South Shore market—and now Ed complains that his sales people aren't hungry enough!
[WATD's allocation itself was moved to Marshfield from Martha's Vineyard. Ed persuaded the FCC to add a new 92.7A allocation in Tisbury, which could not be used on the South Shore due to WBOS (92.9B Brookline); this made it possible to move the 95.9A to Marshfield without taking away service on the Vineyard.]
WATD's studios have been located for the past twenty years in an industrial park, at 130 Enterprise Drive, not far from Route 139. The transmitter has from day one been located a few miles to the east, next to the former Marshfield town dump—hence the callsign, "We're At The Dump". The studio facilities are shared with the Talking Information Center, a radio reading service started by WATD but now a separate, non-profit operation heard on subcarriers around the Commonwealth.
---
Copyright 2005, Garrett Wollman. All rights reserved. Photograph taken 2005-06-09.