WKSS, WPHH txen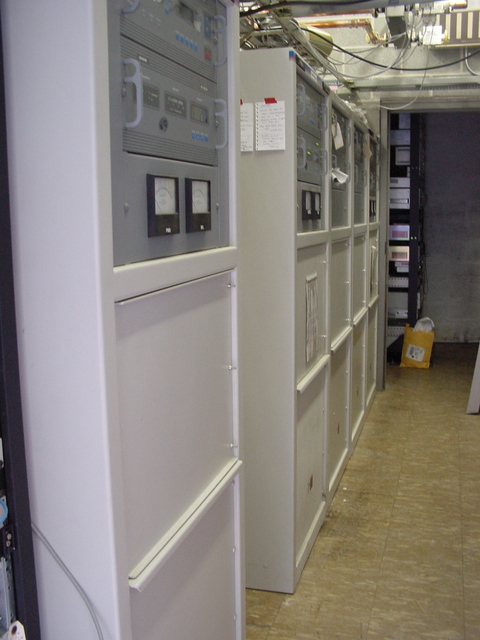 Our tour starts on an unfortunately dreary morning atop West Peak in Meriden, with Clear Channel's Rick Walsh. Because the tops of the towers were shrouded in low clouds (you might also call it fog or haze, I won't be able to present as good photos of the towers as I would like. Obviously I'll have to go back some time during better weather.
The first building Rick showed us was the closest to the end of the paved road up to the summit. It now houses WPHH (104.1 Waterbury) and WKSS (95.7 Hartford-Meriden). A continuing story of these visits has been the ever-shrinking footprint of transmitters; these two stations were once in separate buildings (as Clear Channel's other FMs, WHCN and WWYZ, still are), but the operational advantages of keeping them in one building are significant.
This is a fairly standard Harris Z10 installation, with separate IBOC transmitters in between the two analog units. I don't recall what function the rack nearest me has. (Well, I know it's a backup for something, but I don't know for what.)
---
Copyright 2005, Garrett Wollman. All rights reserved. Photograph taken 2005-06-10.