WTIC-FM; WWUH behind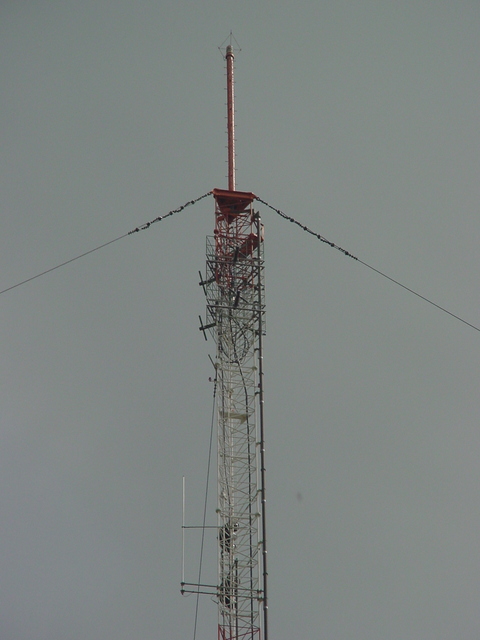 There's another tower on the WTIC property. On the top of the tower, the UHF antenna serves WEDH (24 Hartford, PBS)—for the moment. Ironically, WEDH's digital TV (channel 45) is on the Farmington tower belonging to the current WTIC-TV (61 Hartford); WEDH also has a construction permit to move the analog there.
In addition to channel 24, this tower is also the home to WTIC-FM (96.5B Hartford), on that two-bay panel antenna at the top of the structure. WTIC-FM started out in the old FM band at 43.2 MHz as W1XSO; it later moved to 45.3 MHz as W53H, but by 1950 had landed at its current dial position. According to Jeff, there was originally a 200-foot self-supporting tower on the property just for FM, but in 1962 with the advent of channel 24, a new tower was built for both stations. (Travelers was very generous to the nascent educational TV station; in addition to building a new tower to hold their antenna at very low rent, they also paid for WEDH's first transmitter!)
WTIC-FM's backup antenna is also the primary antenna for the University of Hartford's WWUH (91.3A West Hartford); it's on the back side of the tower and a bit tough to see.
---
Copyright 2005, Garrett Wollman. All rights reserved. Photograph taken 2005-06-10.