Wow, that's big!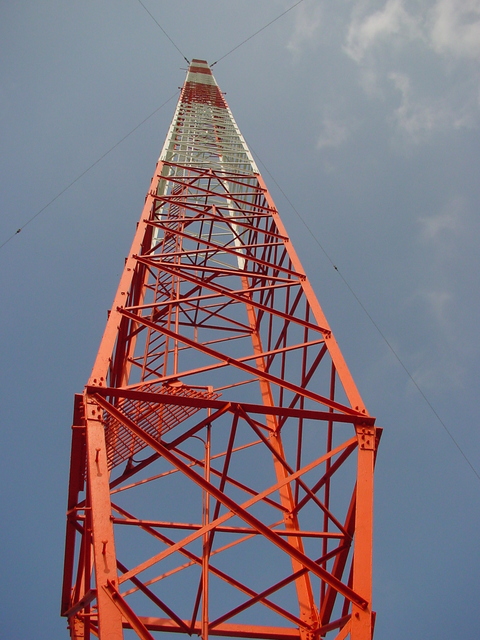 Standing now at the base of WTIC's (inactive) night tower, one cannot help but be impressed. There are few towers out there that give such an impression of bigness—and most of them, unlike WTIC, are Blaw-Knox diamonds. This tower is not all that impressively tall—only 440 feet—but the broad, square face makes it seem much larger than it is. When we toured the facility, this tower had just been repainted. (Jeff points out in email that the towers were originally 475 feet tall, as appropriate for a station on a pre-NARBA frequency of 1040 kHz. In 1979, the top 35 feet were cut off both towers, to push the skywave cancellation zone farther out of the market.
WTIC operates DA-L:KRLD. The difference between Hartford and Dallas sunset results in an extra hour of non-directional time for 'TIC, which comes in handy for those 4:15 winter sunsets.
---
Copyright 2005, Garrett Wollman. All rights reserved. Photograph taken 2005-06-10.