WTPL promo vehicle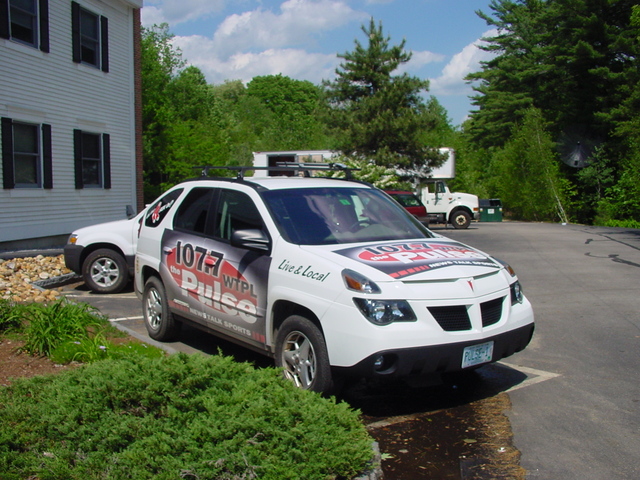 Just south of Concord is the town of Bow, where we find the studios of "Pulse" WTPL (107.7 Hillsboro). The Concord market is a rather curious one, and worthy of an extended description.
If we wind the clock back to 1989, we find only three commercial stations in Concord: Capitol Broadcasting owned full-service AC WKXL (1450) and hit radio WKXL-FM (102.3), and Empire Radio Partners owned soft AC "Joy" WJYY (105.5). Clark Smidt's WNNH (99.1 Henniker) and Empire's WRCI (107.7 Hillsboro) had just been granted, and the 93.3 Belmont allotment was stuck in limbo with two competing applications.
By 1994, when I first traveled through Concord for radio purposes, WNNH and WRCI had come on the air: WNNH as "Oldies 99" and WRCI as a simulcast of WJYY. WKXL-FM, too, had slipped into simulcast mode, dropping the CHR for the AC format heard on the AM. WJYY had hardened up enough for my references to list it as straight-on AC, and it was no longer calling itself "Joy". WNHI (93.3 Belmont) came on the air in the early '90s, and new owners Radioworks assembled a sizable group for such a small market with WNHI as classic rock "I-93" and the pairing of WJYY and WRCI. (Because the ownership rules at the time used field contour overlap and not economic markets, Radioworks was able to own three FMs: while both WRCI and WNHI overlapped with WJYY, they did not overlap with each other.) At this time, the three Radioworks stations were in the Perley St. studios originally occupied by WJYY, and WKXL/WKXL-FM was in a building at the transmitter site on Redington Road west of downtown Concord.
What a difference a few years makes! WNNH moved from Pat's Peak in Hillsboro to a new tower east of Hopkinton. Then, with the Telecommunications Act of 1996, stations started to be sold and major groups built, and things really get confusing.
By 2002, there were still two owners left in Concord -- but just barely. Bruce Danziger and Jeff Shapiro's Vox Radio Group had acquired the three Radioworks stations in 1999, and the two Capitol Broadcasting stations, leaving only WNNH, which Smidt had sold to Tele-Media. Vox moved the WKXL simulcast to 107.7 (still under the WKXL-FM callsign), and flipped 102.3 to country as "Outlaw" WOTX-FM. Then, in 2003, Vox began its exit from the major group owner business. First to go were WKXL and WKXL-FM: AM 1450 went to a local outfit called Embro Communications; Embro also LMAed 107.7 under new callsign WTPL. The rest of Vox's Concord stations, except WTPL, went in 2004 to New Jersey's Nassau Broadcasting. Nassau also bought the Tele-Media group, including WNNH, bringing them right up to the ownership limit. Also in 2004, Embro sold its interest in WKXL to a local group headed by former senator Gordon Humphries.
In August of 2003, Shapiro (operating as Great Eastern Radio, LLC) agreed to buy out Danziger's 51% interest in WTPL, for $1.5 million in debt, with a three-year repurchase option at $1.875 million. The sale was conditional on FCC approval for and construction of an upgrade to WTPL's facilities, moving from the mountain valley where it had started (at 276 feet below average terrain) up to the old WNNH tower on Pat's Peak. The permit was granted early in 2004, and a license to cover was granted in March, 2005. The FCC consented to the station sale in June of 2004.
Thus, for a while in 2004, WKXL's Redington Road studios were home to three stations with three separate programs under three different owners: WKXL with news and talk under Embro and later Humphries; WTPL with news and talk under Great Eastern, and WOTX-FM with country under Nassau. In 2005, both WTPL and Nassau moved to new studios: WTPL moved to the building in Bow seen above, which had previously been home to WNNH; and Nassau to an office park in Hooksett, leaving WKXL alone in the building where it started.
---
Copyright 2005, Garrett Wollman. All rights reserved. Photograph taken 2005-06-07.