Yankee Building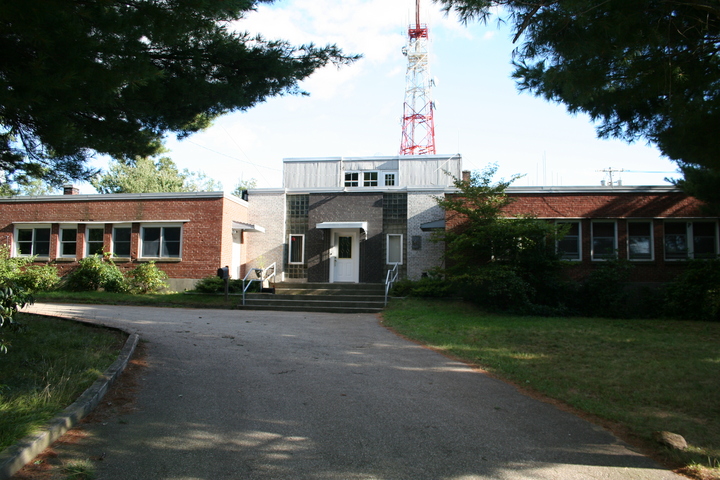 We move on to the end of Asnebumskit Road, to the Yankee Network's original building on this site, constructed in the late '30s for W1XOJ. That station received a commercial license to operate with 300 kW ERP (50 kW TPO) on 44.3 as W43B; in the high band it became WGTR, after the initials of owner General Tire and Rubber, and was sister to WAAB (1440 Worcester, now WVEI). WGTR died the death of most early FM stations, but this facility did not stop broadcasting for long: WWOR-TV (14 Worcester) signed on from this spot a few years later. WWOR was sold to Springfield's WWLP, and became WJZB as a satellite of channel 22. WJZB eventually went the way of most early UHF TV stations (as did its sister, WRLP in Greenfield).
Meanwhile, WAAB put on a new FM sister station, WAAF (107.3B Worcester, now Westborough), from the same location.
Several years ago, television came back to Asnebumskit Hill, in the form of WYDN (*48 Worcester). The station is owned by an outfit called "Educational Public Television Corp.", about which the best that can be said is that two of those words in its name are correct. WYDN broadcasts Daystar religion 24x7; its "studios" are located in the old Yankee Building, through the side door on the left. (Some day I'd like to visit its public file; hopefully it's not necessary to go to EPTC's headquarters in Texas to find it.)
---
Copyright 2005, Garrett Wollman. All rights reserved. Photograph taken 2005-09-03.