Engineering diagram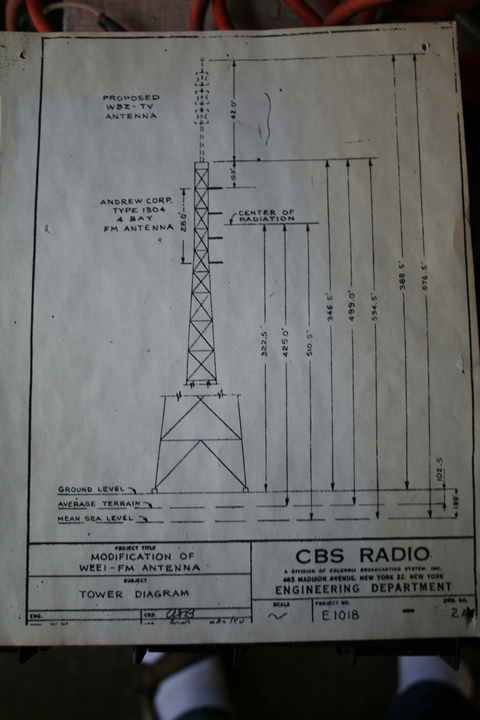 This facility was built by CBS in the early 1950s for what was then WEEI-FM, today's WODS (103.3B Boston). WEEI-FM had started out in 1948 on one of the WEEI (590 Boston) towers on Mystic Valley Parkway. The site was clearly unsatisfactory, and CBS quickly began work on a new tower at 146 Murray Street, still in Medford but much higher in elevation—not far from where General Tire had erected a tower for its WNAC-TV (7 Boston). This diagram suggests that CBS might have planned from the beginning to have a TV station here, since the WEEI-FM antenna was side-mounted below the top of the antenna. It was a good thing that it was, whatever the reason, since Hurrican Carol in 1954 felled WBZ-TV's tower in Brighton. Channel 4 needed a quick replacement facility, and CBS was in the right place with a tower that could support it.
The channel 4 antenna was removed after Westinghouse completed a new, taller tower at 350 Cedar Street, Needham, in 1957. WEEI-FM remained here until 1974, when it moved to the former WHDH-TV (5 Boston, now defunct) tower in 1974. CBS donated the tower and property to Harvard University, on the theory that WHRB (95.3A Cambridge) might use it. Harvard still owns the facility to this day, but WHRB never moved when it might have made sense, and it no longer would make sense today.
---
Copyright 2006, Garrett Wollman. All rights reserved. Photograph taken 2006-03-24.