Signal Hill towers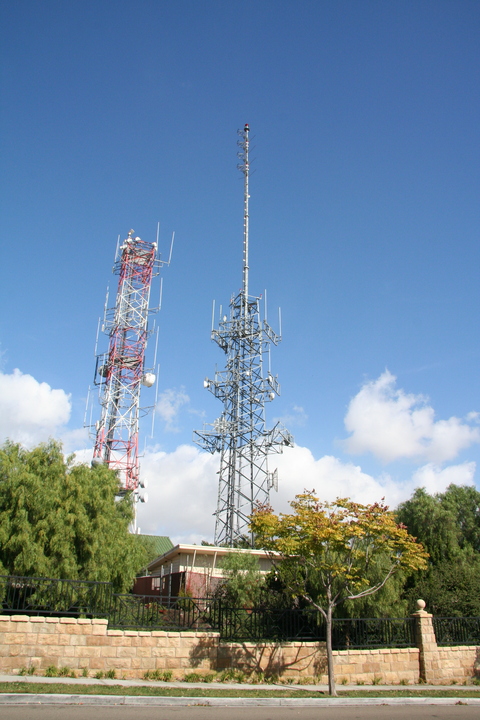 According to Wikipedia, Signal Hill got its name from the signal fires which were once built here by native people, which could be seen as far away as Santa Catalina Island. In 1921, oil was discovered under the hill, and the City of Signal Hill was soon incorporated to prevent annexation by nearby Long Beach.
The first radio station on Signal Hill was KNOB (103.1 Long Beach), a jazz station, founded in 1948. (A nearby historical marker describes KNOB's history.) By 1958, KNOB had upgraded to much bigger facilities on 97.9 (what we would now call a "class C", but the FM class system had yet to be invented), but still licensed to Long Beach. KNOB was purchased by Spanish Broadcasting System in 1988 and became KSKQ-FM; in 1992, KSKQ gave way to KLAX-FM. Also in the early 1990s, Spanish petitioned the FCC to reallocate 97.9 to East Los Angeles; this permitted them to move the station off Signal Hill to the Flint Peak tower in Glendale, on the other side of the market.
The only station remaining on Signal Hill, atop the tower at right, is KKJZ (88.1B Long Beach), formerly KLON. KKJZ is now owned by the CSU-Long Beach Foundation, and is managed by Saul Levine's Global Jazz. (KLON was originally owned by the Long Beach school district. For some years there was also a class-D student station at CSULB, which no longer exists; I'm not clear on when the student station was shuttered or when the 88.1 license was transferred.) This tower was built in 2001 by SBS (under the direction of our friend Fred Holub), but signs on the gate indicate that it is now managed by Crown Castle International. The official street address is 2411 Skyline Drive.
---
Copyright 2008, Garrett Wollman. All rights reserved. Photograph taken 2008-11-10.