Mt. Lee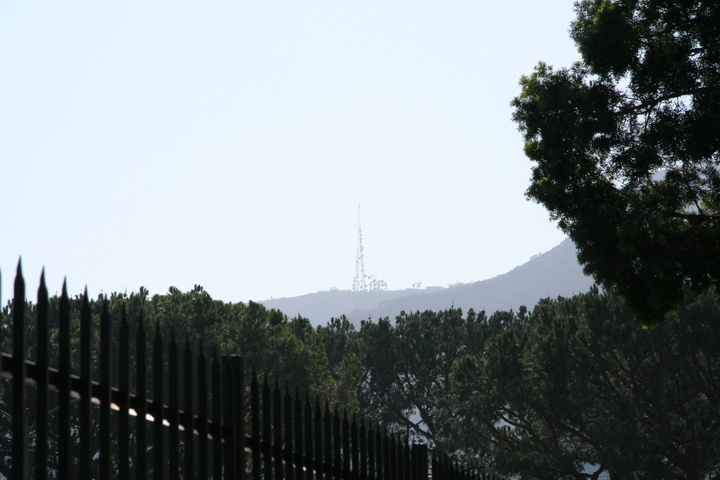 Ironically, the tower seen rising in the hills south of NBC Burbank has more of a connection with CBS than with NBC—well, sort of. This tower, now used only for Los Angeles County public-safety radio, is a replacement for an older tower, which saw the birth of all-electronic television in Los Angeles. Don Lee, the Cadillac dealer who owned KHJ (930) and a network of Mutual-affiliated stations up the coast to San Francisco, started W6XAO here, on channel 1, in the late 1930s. (The ridge is named "Mount Lee" in his honor.) When commercial television broadcasting began, W6XAO moved to channel 2 and became KTSL, after Lee's son, Thomas S. Lee. KTSL was sold to CBS, which eventually renamed it KNXT and built a new thousand-foot tower on Mount Wilson; today it's KCBS-TV. (Meanwhile, the Don Lee Network came under the control of RKO Pictures after Thomas Lee's death, and acquired KFI-TV (9) from Lee's Packard-dealer competitor Earle C. Anthony in 1951, renaming it KHJ-TV.)
KTSL's studios were located at 3800 Mount Lee Drive until 1948, when all of the Don Lee stations moved in to new digs at Vine and Fountain in Hollywood. They would remain there until 1960, sharing space for nine of those years with competitor KHJ-TV. KHJ-TV itself moved to 5515 Melrose in 1964, handing its old studios on to KCET (28), which signed on that September. KNXT had moved to Columbia Square (6121 Sunset, at Gower) in 1960, later becoming KCBS-TV; KHJ-TV remained on Melrose until 2004, when (as KCAL-TV) it too moved to Columbia Square, having come under CBS ownership. Both stations moved to CBS Radford in 2007.
For what it's worth, the taller mountain just west of Mount Lee is Cahuenga Peak. There are, incidentally, two other notable radio facilities in the Hollywood Hills; a tower on an apparently-unnamed ridge east of Mulholland and Laurel Canyon is home to a KSSE (107.1) booster; and the Briarcrest tower (KCBH/KJOI/KYSR 98.7 and KCRW 88.9) is about three miles to the southwest.
---
Copyright 2008, Garrett Wollman. All rights reserved. Photograph taken 2008-11-11.