Columbia Pictures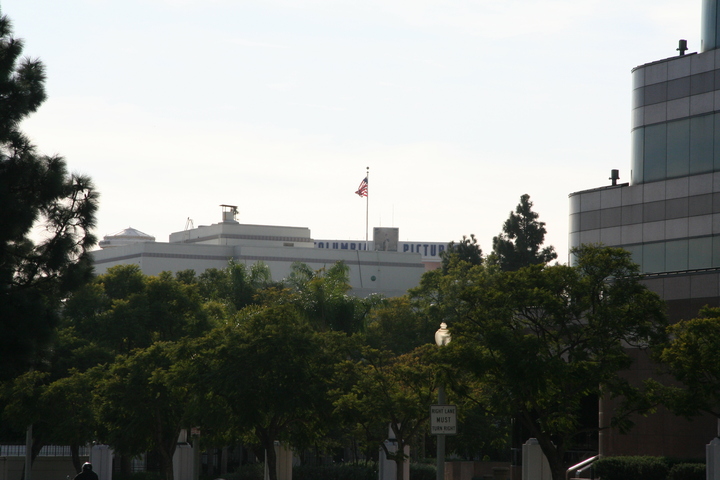 I don't think there's any place to get a really good view of this facility. The building there off in the distance says Columbia Pictures, but if you're up on your Hollywood studio history, you know that this isn't the historic Columbia studio lot. This is Sony Pictures Entertainment, 10202 West Washington Boulevard, in Culver City—an address made famous by Jeopardy!—albeit as seen from the Culver Boulevard side. (I'm actually standing on the sidewalk in front of the post office here.)
Those devotees of Hollywood history will already know the story: this triangular plot of land in Culver City was purchased by Thomas Ince for his Triangle Studios in 1915; Triangle came under the control of impressario Samuel Goldwyn in 1918; Goldwyn was forced out by his business partners and the company merged with Metro Pictures and Louis B. Mayer in 1924 to form Metro-Goldwyn-Mayer. In 1986, MGM sold off the lot to Lorimar Telepictures, and in 1990, Sony Pictures bought the facility from Lorimar's new owner, Warner Brothers.
There is a radio connection to all this: MGM briefly (1949-1953) operated a radio station, KMGM (98.7), and the studios were located here on the MGM lot. There were virtually no listeners to FM radio in the early 1950s, and MGM really had no idea what it wanted with a radio station anyway, so the license was handed back in to the FCC, and a record store, Crawford's of Beverly Hills, won a new license a short time later. KCBH built a new tower (now known as "Briarcrest") on Alto Cedro Drive in Beverly Hills, with new studios at its base. This time it stuck, and KCBH survived to become KJOI and now KYSR (98.7B Los Angeles), one of only two FM stations licensed to Los Angeles proper not to transmit from Mount Wilson.
Oh, and Columbia Pictures' old home? They had previously shared a studio lot with Warner Brothers in Burbank, but for many years before that, Columbia was at the corner of Sunset and Gower in Hollywood, across from CBS's (entirely unrelated) Columbia Square studios and west-coast headquarters.
---
Copyright 2008, Garrett Wollman. All rights reserved. Photograph taken 2008-11-11.