KTTI/KCFY/KQSR towers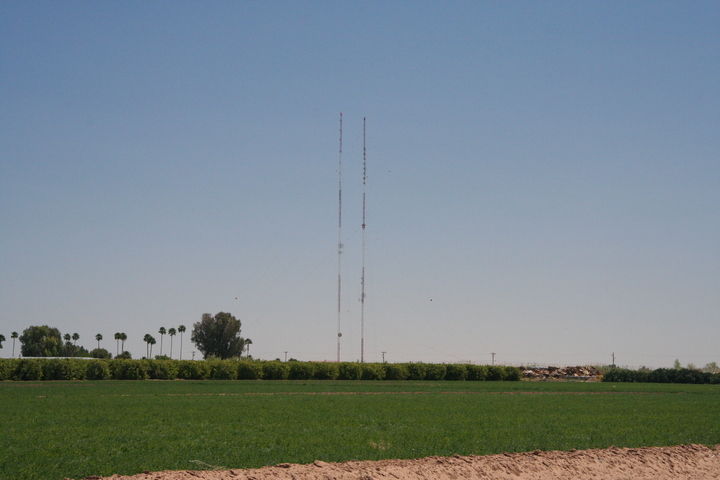 These towers belong to three of Yuma's FM stations: KTTI (95.1C2), KCFY (88.1A), and KQSR (100.9A). One of these towers was built in 2002, and is supposed to have a ten-bay ERI antenna for KTTI. FCC records show KCFY on the new tower, but with a license dated long before it was constructed, so I'm not sure what's going on there. (KCFY does show an STA, with no engineering details, from around the time the new tower was built.) There's also an LPTV here, KESE-LP (35), which is the market's Telemundo affiliate, and is co-owned with the Fox and ABC affiliate KECY.
The street address of both towers is 4250 East County 13th St., according to the Antenna Structure Registration, and they are owned by El Dorado Broadcasters, which acquired KTTI and KQSR from Clear Channel in 2007. (El Dorado owner Jason Wolff also owns stations in Hawaii and several California markets.) The photo was taken from S. Avenue 4E.
---
Copyright 2009, Garrett Wollman. All rights reserved. Photograph taken 2009-04-18.