Amenia tower farm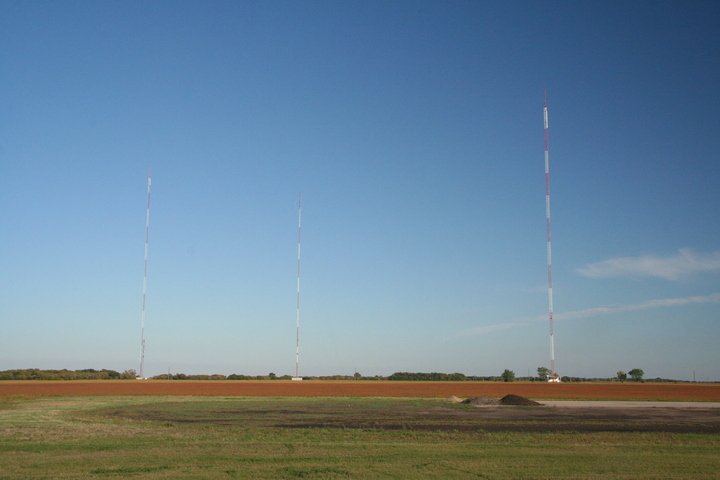 Back to some real towerage now…. We're in Amenia, on Highway 18, and this tower farm includes the closest to Fargo of the major television stations licensed there, Forum's WDAY-TV (6/21 Fargo, ABC/CW). WDAY-TV's tower is the rightmost (southernmost) in this view; it's a modest 367 meters (1205 feet) tall, and was built in 1978.
The center tower is used by Radio Fargo-Moorhead's WDAY-FM (93.7C0 Fargo) and KRWK (101.9C1 Fargo), as well as tower owner Northwestern College's KFNW-FM (97.9C Fargo); it's 322 m (1055 ft) tall and was built in 1995. (WDAY-FM is another ex-Clear Channel station; CC had acquired it in 2000, and applied to move it from the WDAY-TV tower to the KFNW tower in 2006. The old antenna was damaged while awaiting FCC approval for the move, in late fall of 2006, and the move was completed under Radio Fargo-Moorhead ownerhip the following spring. KRWK started out in 1984 as a full class-C from a tower off I-29 twenty miles north of Fargo, a sister to KFGO(AM) under the callsigns KRRZ and later KFGO-FM; it moved here in 1996.)
The left (north) tower is used by Prairie Public's KFME (13 Fargo) and KDSU (91.9C Fargo, licensed to NDSU), joined recently by Fargo Baptist Church's KFBN (88.7C1 Fargo); it was built in 1998 in anticipation of Prairie Public's DTV conversion. It is 352 m (1156 ft) tall.
47.01

;

-97.195
47░0′36.0″Ná97░11′42.0″W
---
Copyright 2009, Garrett Wollman. All rights reserved. Photograph taken 2009-09-24.