ATC Mt. Diablo tower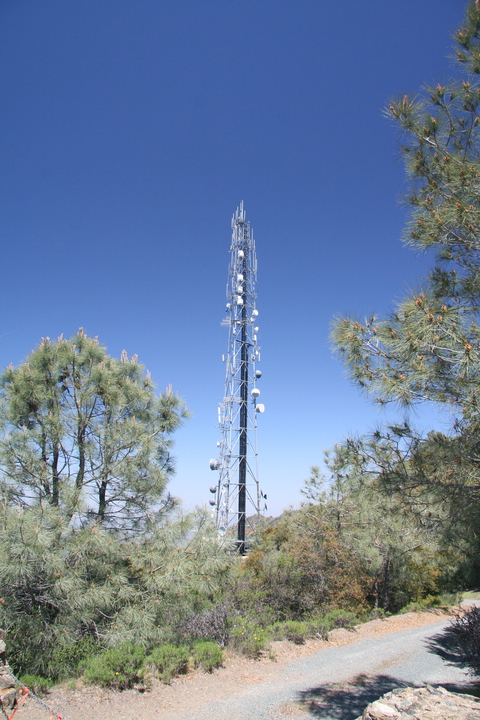 After being unable to find Vallejo non-comm KZCT (89.5A), which is colocated with a KVYN booster above St. John mine, northeast of Vallejo, I took the Benicia-Martinez Bridge across Carquinez Strait down into the East Bay, following I-680 south into Walnut Creek. East of Walnut Creek stands Mt. Diablo, the southernmost outpost of the northern Coast Range ecosystem and the highest peak in the East Bay at about 3800 feet in elevation. It's a good place to look down into the canyons, and it's perfectly placed to block San Francisco FM signals from reaching eastern Contra Costa County. It was natural that many stations would want to put boosters up, and this American Tower facility houses twelve of them. There's also a translator and full-power television up here.
The FCC database gives four different coordinate pairs for the stations here. There is clearly only one tower, so some of the stations must have erroneous coordinates. Here's the complete list:
KQED-FM2 (88.5 Walnut Creek // KQED-FM San Francisco)
K216FV (91.1 Concord // KCSM San Mateo)
KRZZ-FM3 (93.3 Pleasanton // KRZZ San Francisco)
KYLD-FM1 (94.9 Pleasanton // KYLD San Francisco)
KGMZ-FM1 (95.7 Walnut Creek // KGMZ San Francisco)
KISQ-FM3 (98.1 Concord // KISQ San Francisco)
KSOL-FM3 (98.9 Pleasanton // KSOL San Francisco)
KMVQ-FM3 (99.7 Walnut Creek // KMVQ-FM San Francisco)
KOSF-FM2 (103.7 Pleasanton // KOSF San Francisco)
KUZX-FM2 (102.1 San Francisco // KUZX San Francisco)
KBLX-FM2 (102.9 Pleasanton // KBLX-FM Berkeley)
KFOG-FM3 (104.5 Pleasanton // KFOG San Francisco)
KSAN-FM1 (107.7 Pleasanton // KSAN San Mateo)
KTNC-TV (42/RF 14 Concord, Estrella TV)
KUZX-FM2 is a strange case. According to the engineering study, with 1 kW ERP, this booster actually puts 54 dBu over San Francisco, its primary's community of license. (It was built by Bonneville in 2006 for what was then classical KDFC.)
KTNC-TV's programming is also seen on virtual channel 38.3 of KCNS (38/RF 39 San Francisco).
---
Copyright 2012, Garrett Wollman. All rights reserved. Photograph taken 2012-05-07.