Highway Stations studios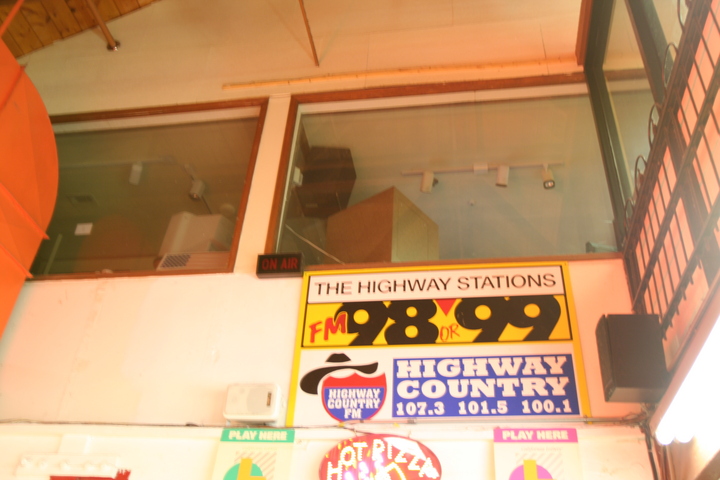 Now we finally get on to the radio part of the trip, about two hours south of Las Vegas in the city of Barstow. Barstow was once a sleepy little railroad town, but its location at the former intersection of US Routes 66 and 91 made it an important stopping point and the last city of any significance for traffic crossing the Mojave Desert to the east and north. Today, US 66 is Interstate 40, US 91 is Interstate 15, and the city is larger than it has ever been, thanks to the high real estate prices in the Los Angeles basin.
Barstow is part of a small radio market with about two dozen stations; although part of San Bernadino County, Barstow is on the north side of the San Gabriel Mountains and thus shadowed from the much larger Riverside/San Bernadino and Los Angeles markets. With tens of thousands of Angelenos driving to Las Vegas every weekend, there was a clear marketing opportunity for a station that could target drivers along the lonely freeways with Las Vegas advertising messages. Howard B. Anderson figured out how to do it, and put "The Highway Stations" on the air in 1980, with two stations: KRXV (98.1 Yermo), and KXVR (99.5 Mountain Pass, now KHYZ on 99.7). In time, Anderson would add six more stations, adding coverage along I-40 toward Laughlin, Nevada, and two additional formats, rock and country. The original stations, now joined by KHWY (98.9 Essex), are still the core of the Highway Radio group, and today run an Adult Contemporary format. All eight stations have studios here in Barstow Station, a tourist-trap-cum-historic-railroad-station located at 1611 East Main Street, just off the freeway on Old Route 66.
Highway Country is KIXW (107.3 Lenwood) and KIXF (101.5 Baker); The Drive is KHDR (96.9 Lenwood), KHRQ (94.9 Baker), and KHWZ (100.1 Ludlow). (KHWZ recently switched networks, and not all the marketing material has caught up with the change.)
---
Copyright 2006, Garrett Wollman. All rights reserved. Photograph taken 2006-04-20.