CBS AM tech center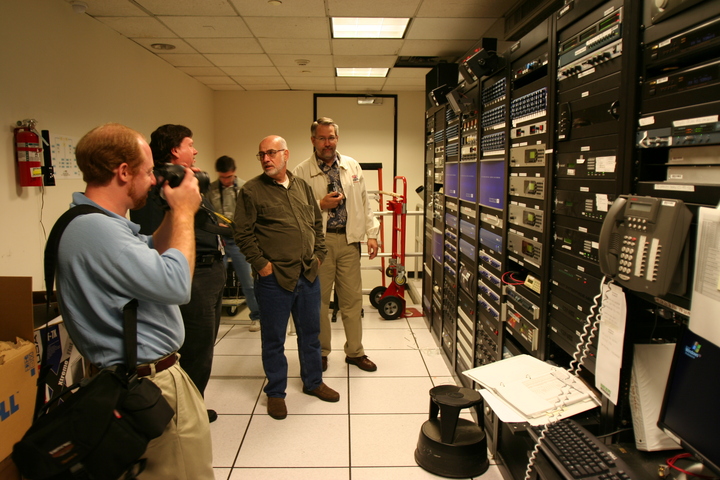 From left to right: Scott Fybush, Paul Sakrison, Dennis Gibson, Burt Weiner, and Mike Tosch.
The space KNX and KFWB occupy had previously been home to the E! cable network, and many of the technical requirements of a broadcast facility were easily satisfied with what E! had left behind. This room was one of those remnants, so CBS avoided having to do a complete machine-room build-out by reusing the space. All the servers, switchers, satellite receivers, and such are of course a new installation. In their previous homes, KNX and KFWB had kept their old-school systems running for as long as possible, in anticipation of a completely new studio build-out: one day, they were using cart decks and traditional all-analogue PR&E consoles, and the next day they came to work at a new building with SAS Rubicon control surfaces and hard-drive playout. (Both Columbia Square and the old supermarket on Yucca have dates with the wrecking ball, which I think will leave 5901 Venice as the most historic radio studio building remaining in L.A.)
---
Copyright 2006, Garrett Wollman. All rights reserved. Photograph taken 2006-04-21.