WUNR/WKOX/WRCA construction progress, Spring 2007
The project to upgrade WUNR and move WKOX and WRCA to the WUNR transmitter site in Oak Hill, Newton, finally got underway in the fall of 2006. By the end of March, 2007, all five new towers had been erected, and the WUNR transmitter had been moved to a temporary trailer behind the old transmitter building to allow the interior of the building to be completely gutted. When the project is done, all three stations will be located inside—a tight squeeze!
I had originally come out here on Saturday, March 31, which was a much better day for photography. Unfortunately, I did not have my camera with me, and when I returned the following day, the skies were a less-photogenic milky white. I plan on future visits to follow the progress of construction as the year progresses; hopefully, Grady Moates will show us the new facility when it's ready to start operation. (Sadly, by the time WKOX is finished moving out of my back yard, the FCC will have approved nighttime IBOC and DX'ing will be a thing of the past.)
The following map, which is taken from the technical exhibit to WUNR's application, shows the locations of the five new towers relative to the building and the two old towers. Note that most of the following photos are taken from the north side of the site, which is at top of this map.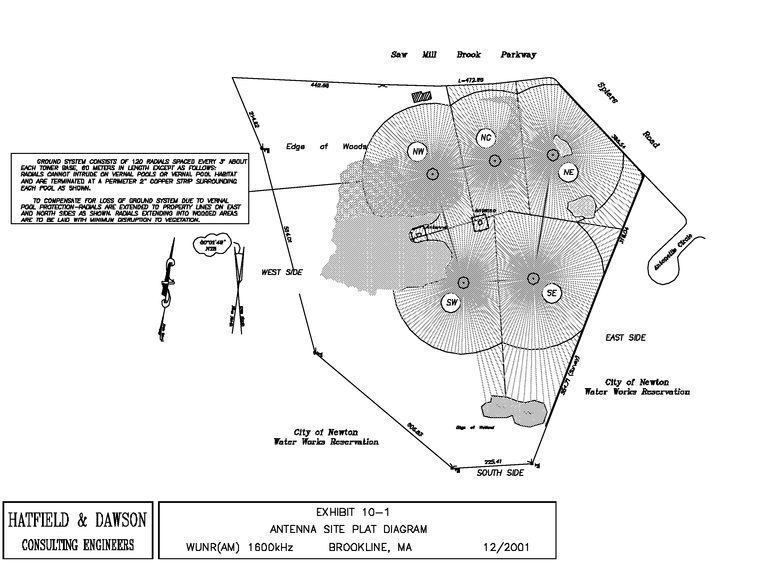 Front of site

Construction sign

Building permit

Temporary transmitter building

New and old towers

2/7 towers

Doghouses old and new
---
Copyright 2007 Garrett Wollman. All rights reserved.