Kennedy Space Center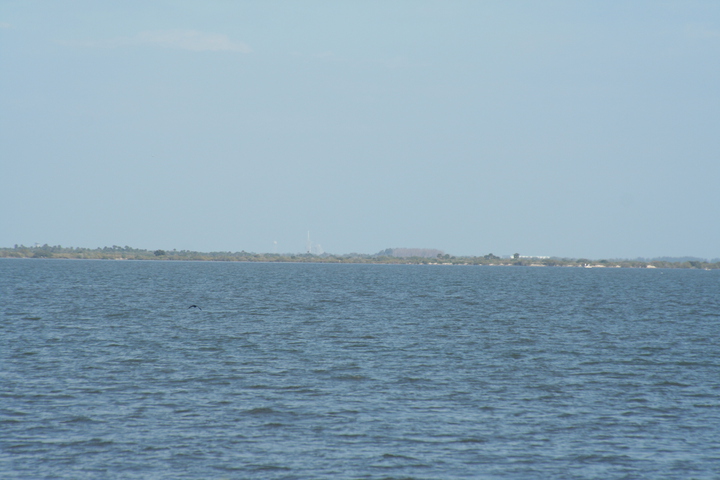 A wider view across the river of the northern part of Kennedy Space Center. The Shuttle Landing Facility is straight ahead, although not visible given the terrain. Barely visible to the left of the brown oblong shape is part of the lightning tower at LC-39A. I'm having a great difficulty matching up this view to the satellite photos of the facility, but there's no question that this is where the Shuttle lifted off from about forty-five minutes after I took this photo. As will become clear in the next photo, the orbiter itself is on the opposite side of Shuttle stack, facing the Atlantic Ocean.
Launch Complex 39 was originally built to launch Saturn V rockets for the Apollo program (although the first manned Apollo launches took place at LC-34 over on the Air Force side). Once the Shuttle program has ended, the Fixed Service Structure, which supports the Shuttle while on the pad, will be demolished, as has already happened at LC-39B. NASA is currently soliciting bids from museums wishing to receive one of the three remaining Shuttle orbiters; it is widely expected that one of them—perhaps Discovery—will replace Enterprise on display at the National Air and Space Museum's Udvar-Hazy Center in Virginia.
---
Copyright 2011, Garrett Wollman. All rights reserved. Photograph taken 2011-02-24.