Looking up at the Empire mooring mast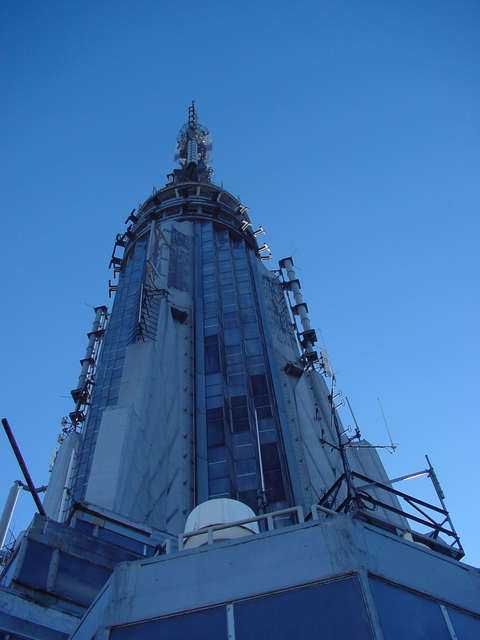 Jim took us out on the 86th floor observation deck -- the engineers who work up there don't have to pay to visit -- and pointed out where the WQHT antenna was. Of course it's easy to tell the broadcast types from the regular tourists -- the tourists are looking down and we're looking up! If you look at this shot at the highest resolution, you can pretty clearly see most of the broadcast facilities currently on Empire. (Some are only mounted on one side of the mooring mast so no view from below can possibly encompass them all.)
Why is it called the mooring mast? Simple. When the Empire State Building was built, Major Armstrong had not yet invented FM, and VHF broadcasting was still in its infancy. There was no conception that this would be one of the best broadcast facilities in New York City. What the designers did conceive, however, was that this would be a major New York passenger terminal for dirigible airships, which would hook right up to the concrete structure seen here, and passengers would disembark and then take an elevator to street level. Only one airship ever docked here successfully; the wind currents were too great to safely transfer even trained personnel, never mind paying passengers.
You may also wonder how it is that all of the transmission lines get from the 81st through 85th floors up to the level of the 102nd. They can do so thanks to another curious architectural relic. When Empire was built, there was no modern chiller-based air conditioning. (In fact, the New York area was just switching over from iceboxes to electric refrigerators!) Instead, a continuous shaft, about 20 square feet in cross-section, links the very top of the building with the ground floor. Huge fans would suck cool air in from 1,000 feet up and exhaust it into the street-level offices to provide some level of temperature control during the hot New York summers. These air shafts are no longer in use for their original purpose -- but they provide a convenient chase in which to install all of the broadcast stations' antenna feedlines.
So what's up here? We'll start from the top and work our way down. This is all just to the best of our knowledge -- and even our engineering contacts are not all that clear on everything that's up here; with all of the construction that has been taking place recently it's a wonder anyone can keep track. (Tom Silliman, if you're reading this, please feel free to correct!)
HAAT/m
Description
439
WFUT (68 Newark, DTV 53)
437
WXTV (41 Newark, DTV 40)
415
ERI FM Master
408
WQHT (97.1), temporarily diplexed with WPLJ (95.5); single bay on right below white radome
408
WNYE-TV (25); smaller white radome opposite 97.1
407
Old WPLJ (95.5) aperture, now occupied by channels 7, 11, 13; on opposite side of mast from our vantage point
397
WCBS-DT (56)
389
WCBS-TV (2)
373
Alford FM Master antenna, now a backup; outside 102nd-floor observation deck
367
WKOB-LP (48)
366
WNYW-DT (44)
338
WNYW (5)/WWOR (9 Secaucus)
---
Copyright 2003, Garrett A. Wollman. All rights reserved. Photograph taken 2003-01-14.