Sudbury River rising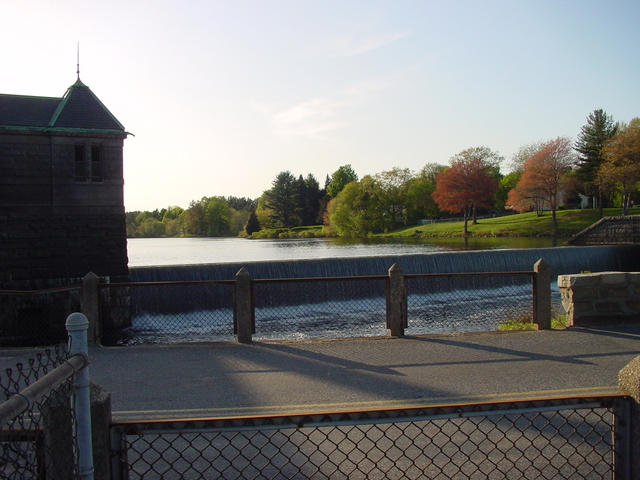 Water from Framingham Reservoir #1 spills over the dam into the Sudbury River. Seen from in front of the Sudbury Aqueduct inlet gatehouse, Winter St., Framingham.
The Framingham Reservoirs (of which there are five) were the second stop on Boston's century-long search for clean, fresh, unfiltered, gravity-fed public water supplies. Built in the late 19th Century by impounding the Sudbury River, they remain part of the public water system today, albeit on an emergency basis (likewise Sudbury Aqueduct). The Massachusetts Water Resources Authority's history pages have additional details on the history of the public water system, which was at each stage of its construction the largest such project in the world. There's also someone else's page with pictures of the classic civic architecture of the Sudbury Aqueduct.
The actual headwaters of the Sudbury River are located in Hopkinton, but most of its length upstream of this dam is impoundments of various sorts. From here it runs north to its confluence with the Assabet River in Concord; the combined flow forms the Concord River, which joins the Merrimack at Lowell. In Sudbury, the river has a grade of 1 foot per mile, and the resulting wetland constitutes Great Meadow National Wildlife Refuge.
See also
---
Copyright 2003, Garrett Wollman. All rights reserved. Photograph taken 2003-05-10.