Grady Moates with 1060 night phasor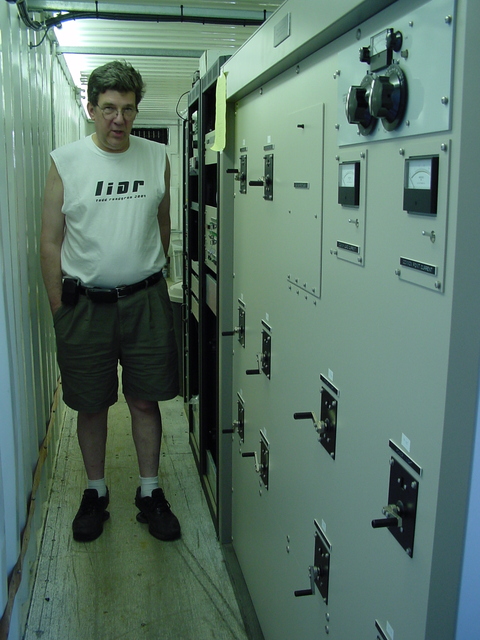 We left Brighton and headed out to Sewell Road in Ashland, where we met Grady Moates. In addition to his regular job as chief of WUMB-FM and its network of satellites, Grady also consults for several other stations around town, including Alex Langer's WSRO (650 Ashland) and embezzler Brad Bleidt's WBIX (1060 Natick, now being run by a court-appointed trustee while Bleidt's case works its way through the legal system). Bleidt attempted suicide a few days after this facility was completed.
The original Natick 1060 was built out here by John H. Garabedian in the 1970s, after having started as a 1-kW daytimer from a single stick in a residential neighborhood. Garabedian wanted the station to be a real player in the market, and he was able to get a construction permit for meaningful night power from this five-tower site, in addition to a substantial daytime increase. However, the night facility never proofed out, and the station operated under STA for many years at half the permitted night power. After Garabedian sold the station, it went through a series of owners, and was eventually traded—sans facilities—to Harold Camping's Family Stations, Inc., for Family's 890 Dedham construction permit.
The new owners converted the 1060 plant to operate at 890 and took to the air late in 1994. The 890 facility was significantly easier to proof (both because WLS is much farther away than KYW is, and also because WLS was owned by ABC and not by Westinghouse). The 1060 signal went dark, and was widely believed to be completely dead. Meanwhile, 890 survived—although it did not prosper—and after a few more ownership changes ended up in the hands of Mega Communications, one of the smaller national Spanish-language broadcasters.
Alex Langer then bought the 1060 license and was able to bring it back from the dead, as a strict daytimer, by leasing out WKOX's night tower. He pursued a program of signal upgrades, with numerous applications, before finally gaining approval for a 40 kW-D, 22 kW-CH ND-D operation from the WKOX site. Langer leased out the station to a number of operators, including Christian broadcasters Great Commission Broadcasting (as "J-Light 1060"), and ending up with Bradford C. Bleidt and his wife Bonnie, who ran a financial-advice format advertising their financial-planning firm. Brad Bleidt ended up buying the station from Langer, and it was he who pursued the upgrade to restore night service on 1060.
The night upgrade cost hundreds of thousands of dollars, a sum we now know was stolen from Bleidt's clients. The court-appointed trustee wisely determined that the best way to obtain restitution for Bleidt's victims was to keep the station operating until it could be sold as an intact property. Who better to program the station in the mean time than Alex Langer, from whom Bleidt had purchased the station only a couple years earlier?
The new night facility was located at none other than the original full-time 1060 site in Ashland. The reason it cost so much (after all, a 2.5-kW AM facility should be that expensive, should it?) was that Bleidt didn't just have to build a new 2500-watt transmitter, he also had to pay to completely rewire the site, including a new phasor for 890 and a nifty five-tower combining network. (WBIX's day facilities remained at 100 Mount Wayte Ave. in Framingham at the WKOX studios.) Grady Moates worked on the upgrade and was able to show us representative examples of what was built.
All of the new facilities are located in shipping containers. Three containers are located at the base of each tower, plus one each for the 890 phasor (the transmitter stayed put) and the new 1060 transmitter and phasor. This container is 1060's phasor; Grady's standing in front of the STL and monitoring racks.
[Late update: On July 27, 2005, Brad Bleidt pleaded guilty to defrauding investors to the tune of $27 million.]
---
Copyright 2005, Garrett Wollman. All rights reserved. Photograph taken 2005-06-08.