WTIC/WFSB tx bldg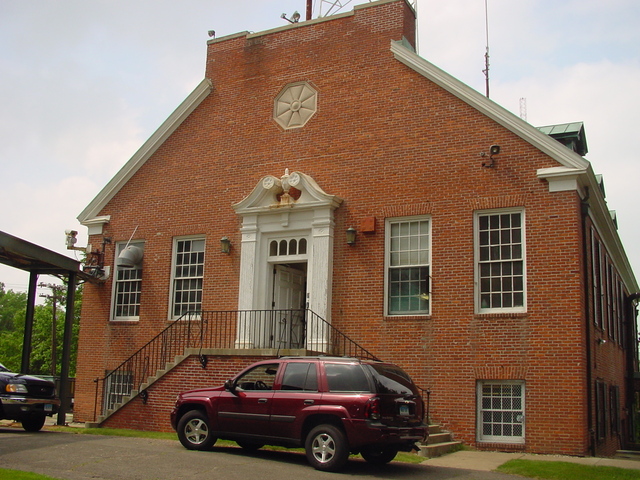 After leaving John at WTMI and WCCC-FM, we headed back down US 44 to Deercliff Road, a twisty hill-climb lined with luxury homes. (What is it with luxury home developers and transmitter sites?) At number 375, we come to what is, without a doubt, the finest transmitter facility in Connecticut (not to mention the only class-A AM in the state): WTIC. This building, which looks to me like an old Federal-style schoolhouse, was built up here on Avon Mountain in 1929 to house RCA's first 50-kW transmitter—long before directional arrays and most of the other modern accoutrements of AM broadcasting.
When television came along, Travelers Insurance Company wanted to join the party, but other area broadcasters in Hartford were afraid of the potential broadcast juggernaut of a WTIC-AM/FM/TV operation, and fought for years to keep Travelers out of television. By the time WTIC-TV finally took to the air on channel 3, in 1957, there were already two other TV stations on the air: WNBC (30 New Britain, then owned by NBC), and WHCT (18 Hartford, CBS). New Haven and Waterbury also had stations. With a full-power VHF station on the air, CBS saw no reason to remain involved with channel 18, and moved its affiliation to channel 3—this was almost the death knell for WHCT, although various owners kept it going (and tied up in FCC proceedings) for nearly forty years until it was finally sold to Univision; channel 18 is now WUVN. Ironically, the channel 18 tower is literally across the street from the WTIC site.
We were here to meet Jeff Hugabone of Infinity, who engineers WTIC and WTIC-FM. Before our tour, Jeff took us down into Farmington for a nice lunch. With appetites sated, we were ready for the full treatment.
---
Copyright 2005, Garrett Wollman. All rights reserved. Photograph taken 2005-06-10.