WMGX tower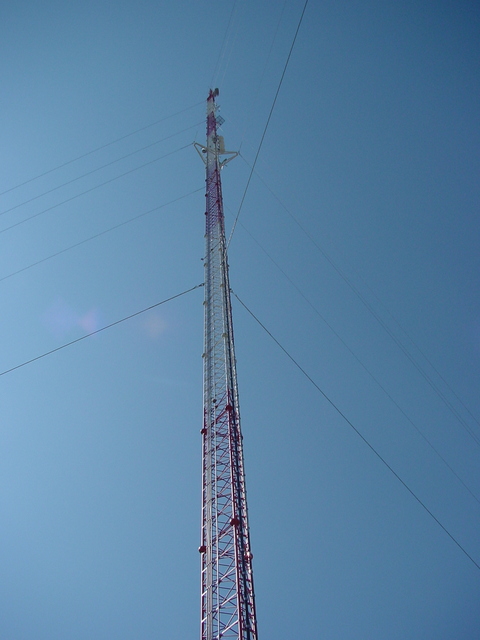 Tuesday dawned foggy, but turned into a beautifully bright, clear day as we left West Bath and headed down to Portland to meet Andy Armstrong, who is chief for Saga's six-station cluster there: WGAN (560 Portland), WZAN (970 Portland), WBAE (1490 Portland), WMGX (93.1 Portland, shown here), WYNZ (100.9 Westbrook), and WPOR (101.9 Portland). A small bit of history is perhaps in order:
WGAN is one of Portland's two heritage AMs. WGAN takes its callsign from the Guy Gannett company, erstwhile publishers of the Portland Press-Herald, Evening Express, and Maine Sunday Telegram (no relation to USA Today's no-first-name Gannett). Its original FM, depending on how you figure it, is now either WBLM (102.9 Portland), owned by Citadel, or WFNK (107.5 Lewiston), owned by Nassau. WGAN had a TV station, channel 13, which is now WGME, owned by Sinclair.
WZAN is Portland's other heritage AM. It was originally WCSH, named after the Congress Square Hotel, and didn't have an FM, but did have a TV station, now WCSH (6 Portland), owned by Pacific & Southern Company (a/k/a Gannett), and about which more later.
WBAE is the old WPOR; those two stations are the only pairing in the group never to have been separately owned. WPOR became WBAE and WPOR-FM became WPOR in April, 2002. The two stations are Saga's most recent acquisitions in the market.
WMGX came on as a stand-alone FM in 1977; owner Sunshine Group Broadcasting, an ancestor to today's Saga, bought WGAN in 1987, and the two have been together since.
WYNZ started out as the second incarnation of WLOB-FM, paired with Portland's 1310; it was sold off separately and ended up being bought by Buckley Broadcasting when they owned 970. For a while, the two stations were simulcasting as WYNZ and WYNZ-FM. The relaxation of multiple-ownership restrictions allowed Saga to purchase both stations in 1993; the AM promptly became WZAN, and the FM went back to WYNZ without changing format. Saga filed an 80-90 upgrade application to bring the FM from class A to class B1. When the upgrade was built, WYNZ moved to the original WMGX tower.
---
Copyright 2005, Garrett Wollman. All rights reserved. Photograph taken 2005-06-07.