South Bay Interchange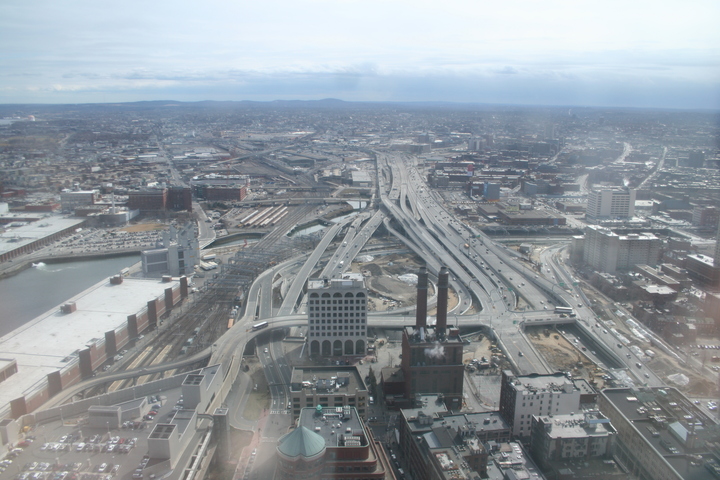 After a nice lunch spent at a local restaurant with Jay Asher and fellow radio buff (and Quincy resident) Donna Halper, we headed back up the Expressway to Dewey Square. Parking our vehicle on the roof of South Station Transportation Center (seen lower left), we joined WFNX chief engineer Chris Hall at One Financial Center for a visit to his newly-installed transmitter. The transmitter room, on the 44th floor of the building, faces south, so we had an excellent view of the South Bay Interchange, said to be the world's most complicated freeway interchange, with 28 distinct traffic movements on at least four different levels. The two smokestacks just below center belong to a district heating plan. The U.S. Postal Service's Fort Point Station is located on the near side of the channel at left, and across from it is the former world headquarters of Gillette (now part of Procter & Gamble). The oddly-shaped building just south of the post office is a vent building for the I-90 Seaport tunnel, which runs underneath it through Fort Point Channel. Just east of that is the northern end of Amtrak's Northeast Corridor and the MBTA's Old Colony line.
---
Copyright 2006, Garrett Wollman. All rights reserved. Photograph taken 2006-03-24.