83 Birmingham Pkwy.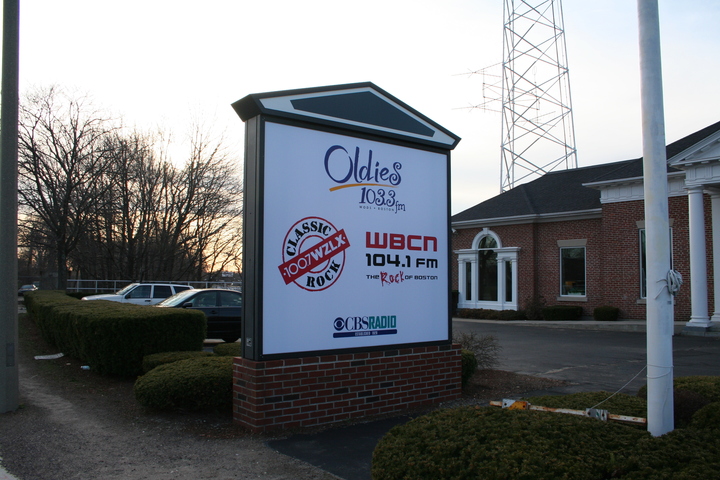 The only building on Leo M. Birmingham Parkway in Brighton is number 83, the long-time studios of WSBK-TV (38/39 Boston). When WSBK's owner, Viacom, merged with CBS, the owner of WBZ-TV (4/30 Boston), the television operations were combined at WBZ's studios half a mile down the street, requiring WODS (103.3 Boston) to move out of the space it had occupied at the WBZ studios. Since Viacom owned the channel 38 building, it made sense for Oldies to move in where WSBK had been. (Until Birmingham Parkway could be renovated, the WSBK staff were relgated to trailers outside the WBZ studios.)
A few years later, WBCN (104.1 Boston) left its long-time home at 1265 Boylston Street (in the part of Boston that today is called "Fenway" but was historically a part of Roxbury) and moved in with Oldies—but the sign outside was never changed to show WBCN. On March 2, 2007, WZLX (100.7 Boston) left its long-time home in the Prudential Tower, joining its sister stations here in Brighton, at which time the signage outside was finally updated.
Leo M. Birmingham, by the way, was a state legislator from 1925 to 1936.
---
Copyright 2007, Garrett Wollman. All rights reserved. Photograph taken 2007-04-21.