Vox studios, Fort Ethan Allen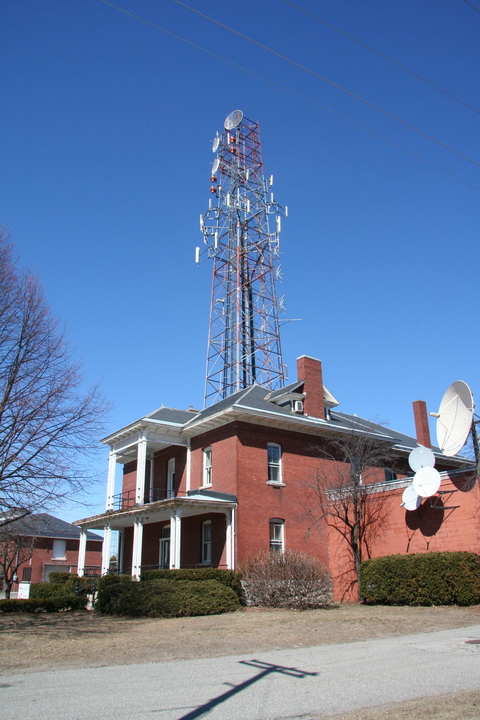 The U.S. Army base at Fort Ethan Allen in Colchester, originally built as a cavalry post in 1894, is now a National Historic District. Although the base was closed in 1964, parts of it are still in use by the Vermont Army National Guard and by the U.S. Army Reserve. The remaining land has been transferred to the state or sold to private businesses, which now account for most of the economic activity in the district. Three broadcasting facilities call Fort Ethan Allen home, of which this building at 265 Hegeman Avenue is the oldest.
Originally part of the band barracks, this building was built around the turn of the twentieth century. For as long as I've been aware of such things, it was the studio home of WEZF (92.9C Burlington), the monster adult-contemporary signal from Mount Mansfield, with a dead-easy STL shot off the back side of that self-supporting tower. I believe the studios moved here after Norman Knight purchased WEZF from whoever owned WEZF-TV (22 Burlington, now WVNY) in 1982, although some sources claim that the TV studios were here as well, which would put the date much earlier. (To the best of my knowledge, the WVNY/WEZF-TV studios were always at 22 Market Square, the former WCAX-TV studios, off Shelburne Road in South Burlington, until they moved in with LMA partner WFFF-TV up in Colchester a few years ago. That building has since been demolished.)
Getting back to Fort Ethan Allen, the WEZF studios became rather cramped cluster studios under Clear Channel ownership, with new sister stations WCPV (101.3 Essex, N.Y.), WXPS (96.7 Vergennes, now WXZO Willsboro, N.Y.), and WEAV (960 Plattsburgh) moving in in December, 1998. Clear Channel added WLCQ (92.1 Port Henry, N.Y., now WVTK) in 2001. One of those sets of FM bays on the STL tower is for a backup site for some of the stations; there's also a translator, W242BK (96.3 Colchester), which currently rebroadcasts WXZO. In 2008, as a part of Clear Channel's massive private-equity buyout, all of these stations were sold to Bruce Danziger's Vox Radio Group.
Somewhat confusingly, the "Zone" hot-talk format for which 96.7 received its current callsign, WXZO, airs only on WEAV. Meanwhile, WXZO runs the "True Oldies Channel" syndicated format under the positioner "96.7/DOT-FM"—homage to heritage AM top-40 WDOT (1390, now WVAA). This would be less confusing were it not for the fact that the current WDOT (95.7 Danville, in the St. Johnsbury market) is part of Steve Silberberg's "Point" AAA network, based out of Montpelier's WNCS (104.7), whose class-C2 signal from Ricker Mountain makes it a full Burlington-market station. Meanwhile, WEZF has been some flavor of easy-listening or AC since the year dot, and WCPV hasn't strayed from its classic rock "Champ 101.3" identity since it started about fifteen years ago. WVTK, although still owned by Vox, is no longer based here; it's now being programmed as an Addison County station rather than a Burlington rimshot, from studios in downtown Middlebury. (If only I had thought to look up the address, I could have gotten a photo when I was down there.)
---
Copyright 2009, Garrett Wollman. All rights reserved. Photograph taken 2009-03-21.