KCGE/KGFE/KBRR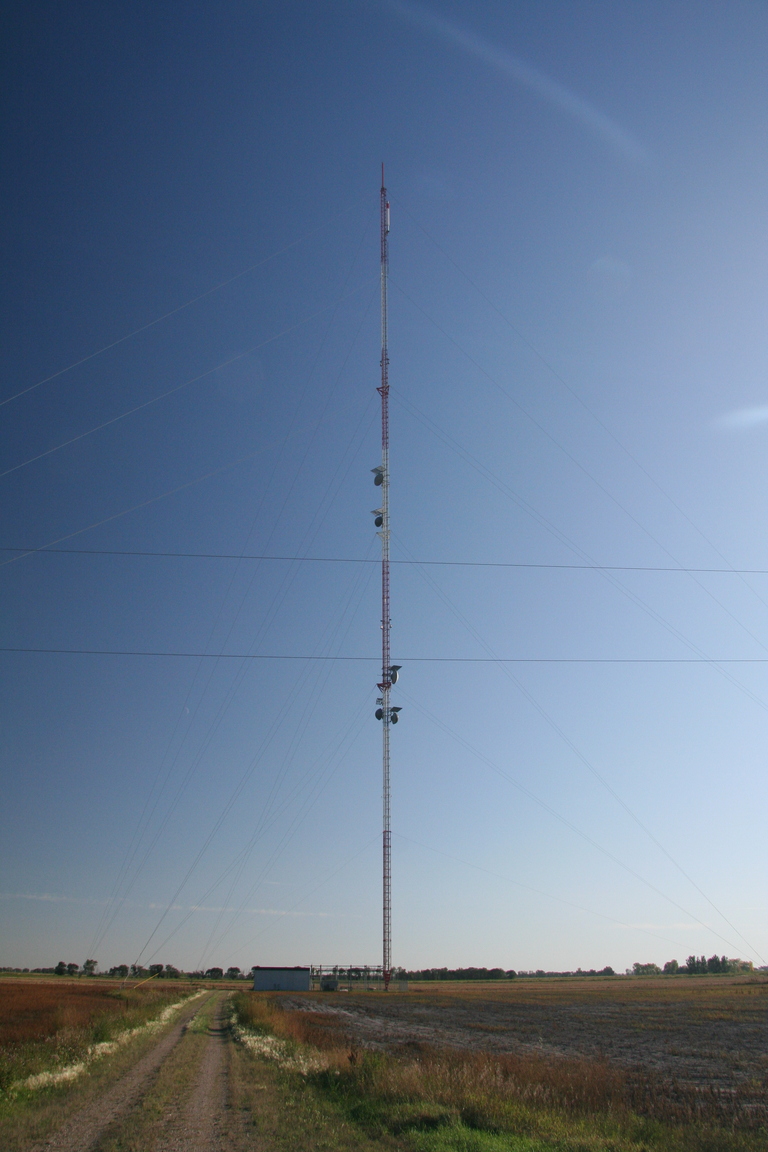 The easternmost tower in the Euclid tower farm is located at 25659 130th Ave SW, is 750 feet tall, and belongs to Prairie Public Broadcasting. Red River Broadcasting's KBRR (10 Thief River Falls, Fox // KVRR) is a tenant on this tower. Prairie Public has two stations, which currently carry identical programming: KGFE (2/15 Grand Forks) and KCGE-DT (16 Crookston).
PPB having two stations at this one site is an artifact of the digital TV transition. KGFE's analog facility on channel 2 was, near as we can make out, co-located with WDAZ-TV (8 Devils Lake) about an hour west of Grand Forks. In the initial round of DTV channel assignments, KGFE received an "out of core" digital allotment on channel 56—an economic disaster from Prairie Public's point of view. It made no sense to invest millions of dollars in building the channel-56 facility, which few actual over-the-air viewers would be able to see, and even fewer viewers would be served by flash-cutting channel 2 to digital. PPB repeatedly requested extensions of KGFE's digital construction permit, in the hope that the FCC's periodic DTV policy review would open up a more cost-effective option.
Meanwhile, PPB pursued another track, petitioning for, and being granted, two new DTV-only allotments, in Crookston, Minnesota, and Devils Lake. To make matters worse, a storm damaged the existing KGFE channel 2 analog facility beyond repair. Given the economic costs required by the DTV transition, PPB was preparing to complete the buildout in Crookston (KCGE 16) and Devils Lake (KMDE 25), and abandon KGFE entirely. Still, they continued to request extensions from the FCC, and were finally rewarded when, in the second round of DTV channel elections, they were able to get KGFE reallocated to channel 15 (which, for spacing reasons, could only be co-located with KCGE). Furthermore, because analog channel 15 was in use (by Fargo's KVRR), KGFE could not actually operate until 2009, when the digital transition would be complete and KVRR would move permanently to channel 19.
PPB's previously-announced plans, once KGFE signed on, were to make KCGE a Minnesota-focused station, with KGFE relaying PPB's statewide network.
KGFE uses an ERI ALP16L2-HSW-15 antenna, configured with a west-facing cardioid pattern and 0.75° of electrical beam tilt, which was donated as surplus by South Dakota Public Television. KGFE's transmitter was previously KDSE's transitional digital transmitter (on channel 20). KGFE's average ERP is 22.6 kilowatts, from 186.1 meters above average terrain.
KCGE-DT uses a Dielectric TFU-16GTH-R C170 antenna, which also has a west-facing cardioid pattern and 0.75° of electrical beam tilt; KCGE-DT has an average ERP of 105 kW from 219.6 meters AAT.
KBRR uses a Dielectric THV-6A10-R-04SM antenna, mounted at 198.1 meters AAT, with 9.3 kW average ERP, non-directional, and 1.5° of electrical beam tilt.
47.9771944444444

;

-96.6053333333333
47░58′37.9″Ná96░36′19.2″W
---
Copyright 2009, Garrett Wollman. All rights reserved. Photograph taken 2009-09-23.