LC-34 pad and apron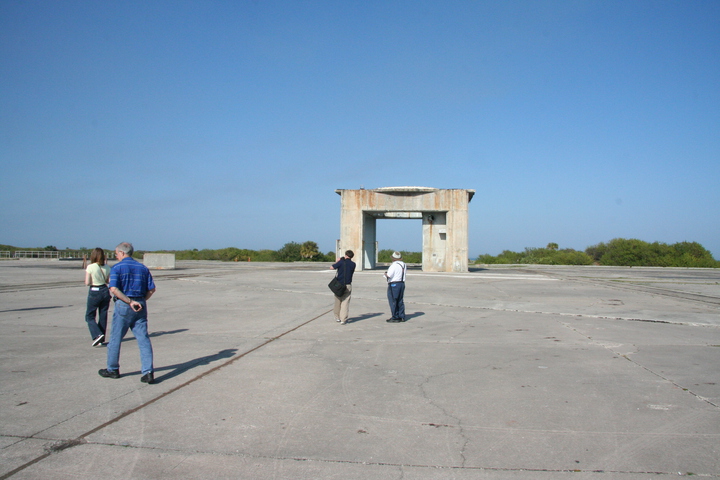 Launch Complex 34 was built to launch the Saturn rocket family, ending with the Saturn IB. Sadly, like most old launch facilities on Cape Canaveral, little remains of it except those parts which were made of concrete, since the steel superstructure was considered too expensive to maintain for a mothballed facility. The railroad tracks embedded in the concrete allowed the mobile service structure to be towed away, and steel flame deflectors to be brought in, prior to launch.
The last launch from LC-34 was the Apollo 7 mission, which was Project Apollo's first successful manned launch. It was also the last manned mission from Cape Canaveral Air Force Station; Apollo 8 and all subsequent U.S. manned space flights have taken off from Launch Complex 39 at Kennedy Space Center, which was built for the larger Saturn V rocket. There is a chance that SpaceX may eventually be able to get their Falcon 9 launch system human-rated, in which case, they would be the first manned launches from CCAFS in more than forty years.
---
Copyright 2011, Garrett Wollman. All rights reserved. Photograph taken 2011-02-26.