Top of WLWC tower, Freetown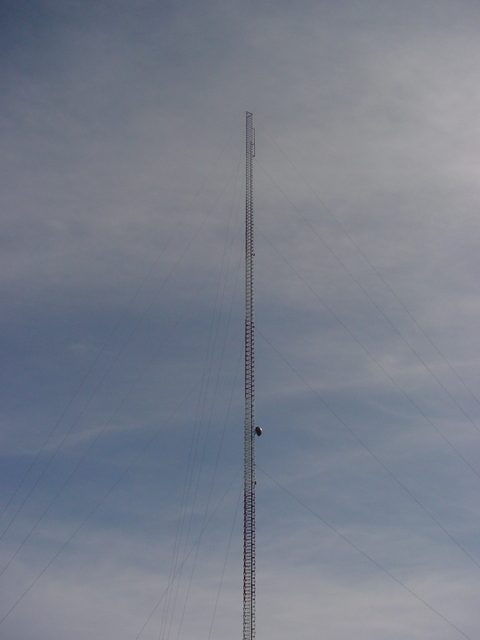 After leaving Brandeis, and taking our leave of Mrs. Fybush, we headed down to Freetown State Forest, not far from route 18, where the WLWC (28 New Bedford) tower has stood for half a decade. The last analog UHF station to be built in Massachusetts, channel 28 began life as a WB affiliate, managed by Providence's WJAR (channel 10). It was subsequently purchased by Viacom, who naturally affiliated it with the parent company's UPN web instead. Since the switch to UPN, this station has been operated out of the WSBK studios in Boston.
One thing we can't explain is why the transmitting antenna is mounted on the west side of the tower. Side-mounting an antenna results in a parasitic effect from the (grounded) tower to which it is attached, thereby weakening the (theoretically omnidirectional) signal along the arc in the shadow of the tower's face. We can only assume that there must be some technical reason for suppressing the WLWC signal to the east, since there is no tenant at the very top of this tower where a TV station would normally prefer to construct its antenna.
---
Copyright 2002, Garrett A. Wollman. All rights reserved. Photograph taken 2002-08-31.