SSTC bus ramps, with Robert Reich campaign van parked below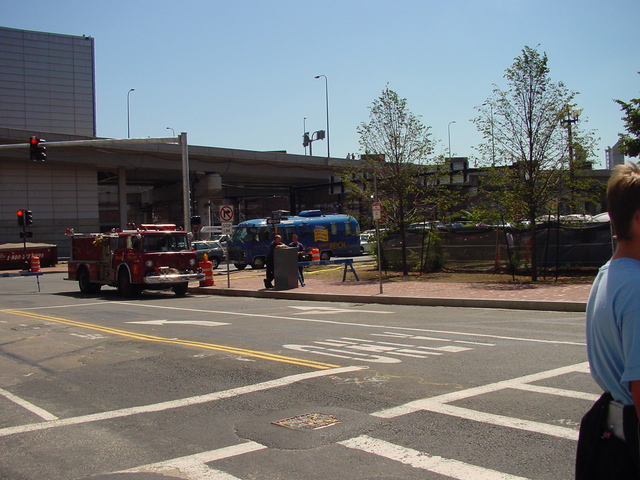 Looking over at the corner of Kneeland St. and Atlantic Ave. The white building on the left is South Station Transportation Center (a bus terminal and little-known parking lot), located on air rights over the South Station railroad tracks. The ramp seen coming off its side serves both the bus loop and the rooftop parking lot; it swings around behind the MHD building to connect to Kneeland St. about the same distance from where I'm standing on the opposite side.
As you can see, Kneeland St. was completely blocked off for this event. The blue van parked to the right of the fire truck belongs to the Robert Reich gubernatorial campaign (although Mr. Reich himself was nowhere in evidence while I was there). The guide sign gantry facing away from me just over the Reich van directs travelers from I-90 EB ("ramp A" if I'm reading things right) and Frontage Rd. to Atlantic Ave. and Kneeland St.; both ramps just opened this month.
---
Copyright 2002, Garrett A. Wollman. All rights reserved. Photograph taken 2002-08-25.